Reading Time:
3
minutes
While researching for my book – Relax! It's Only Social Media – I discovered 'The honeycomb of social media'.
Jan H. Kietzmann, Kristopher Hermkens, Ian P. McCarthy and Bruno S. Silvestre provide this useful framework that defines social media by using seven functional building blocks: identity, conversations, sharing, presence, relationships, reputation, and groups.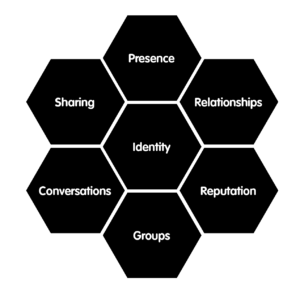 The seven blocks can be used to explain social media by the extent to which the individual platforms focus on some or all of these blocks. Used individually, or together, the blocks can help managers make sense of social media, and understand their audience and their engagement needs. The blocks are not mutually exclusive, and nor do they all have to be present.
Identity – the extent to which users reveal their identities in a social media setting. People often share personal information freely on social media (such as their name, age, gender, profession, location), but also care how other parties use this information. Understanding the data privacy controls for each of the social media platforms is essential in getting the balance right: all users should read the terms and conditions when setting up an account, and should review privacy and settings regularly. The 'identity' building block is core to creating a good first impression and building brand awareness.
Conversations – the extent to which users communicate with each other in a social media setting. While social media networking platforms are built for conversations, their formats can differ. For example, the pace of a conversation on Twitter is very fast, and messages are very short. Organisations need to be aware of when and how they engage in conversations and when a response is expected or appropriate.
Sharing – the extent to which users exchange, distribute and receive content. Sharing is a way of interacting, and may or may not lead to a conversation or relationship. For example, Instagram is all about image-sharing; there is little more text than a caption and keywords (hashtags). Organisations should take care to outline what content can/cannot be shared via social media.
Presence – the extent to which users know if others are available. This can happen through status lines such as 'available' or location 'check-ins'. If users are engaging in real-time conversations (e.g. instant messaging), this can be useful. Presence is closely linked to other building blocks, particularly conversations and relationships. It should be recognised that social media presence is influenced by the intimacy and immediacy of the relationship, and that higher levels of social media presence are likely to make conversations more influential.
Relationships – the extent to which users relate to each other (that is, where two or more users have some form of association that leads them to converse, share content or simply list each other as a friend). In some cases these relationships are formal and structured – for example, the 1st, 2nd and 3rd degrees of connections on LinkedIn. On other platforms, such as Twitter, the relationship does not need to be reciprocated. Along with presence, the strength of a user's relationship can indicate the likelihood of that user being an influencer in their network.
Reputation – the extent to which users know the social standing of others, including themselves, in a social media setting. In most cases reputation is a matter of trust. It can refer not only to people and their audiences, but also to their content, and how often it is 'liked' or shared.
Groups – the extent to which users can form communities or sub-communities. The more 'social' a network becomes, the bigger the group of friends, followers and connections it can involve. Kietzmann et al. (2011) cite a popular relationship-group metric known as Dunbar's Number. Dunbar (2010) theorised that people have a cognitive limit which restricts the number of social relationships they can have with people to around 150. Social media platforms have communities that extend well beyond this limit, and offer tools that allow users to order their connections into groups – for example Google+ circles; they also provide ways to create groups, such as on Facebook and LinkedIn. Groups on social media platforms are more than just lists of users; they are often very active communities that hold conversations on specific topics. Groups can be open to all, or restricted (invitation only or subject to approval).
To find out more, check out this slideshare.