Reading Time:
4
minutes
When it comes to social media, there are so many questions – and rarely a definitive answer.
A question I hear all the time is 'When is the best time to post content on social media?'
My answer is; it depends!
It depends on the platform, your audience, your industry sector and your objectives.
There is, of course, guidance available, and it's important to look for guidance based on each platform – as the pace is so different. A Tweet will be gone from user timelines in less than an hour; a Facebook post may be visible in a timeline for a few hours; a LinkedIn post might last a few days. There's excellent reports such as 'The best times to post on social media in 2022' from SproutSocial, and 'When is the best time to post on TikTok in 2023' by Hootsuite, however, despite these reports being prepared based on reviewing huge amounts of data – they are not based on your own audience and objectives for using social media.
The best answer to this question is; when your audience is most likely to be online, and the answer for YOUR audience, can be found within your own data; the insights from your account profiles. (Note – this does assume that you have the right people following your accounts). Alongside this data you should also take a look at your top performing content, and check when you posted – all data and insights need to be combined with your own knowledge about your objectives, and your audience.
Here's how to find the data by looking at native analytics…
Facebook
If you have a Facebook Page, go to 'Insights' and click on 'Posts' to see the data of when your viewers are online. In this example (below), there are no significant differences for which days of the week are best to post, but it's clear that page followers are less likely to be online from 4pm-9pm. The best time to post for this account would be at the peak time of 9am, and possibly again at 9pm. This account has a number of international followers, hence their followers are online in the early hours of the morning. When scheduling posts, it is important to consider if you are available to respond to comments – so balance the best times to post with your own resources to manage the account.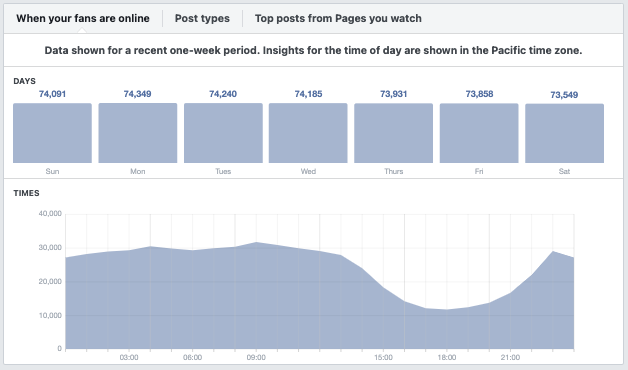 Instagram
If you have upgraded Instagram to a business account you will also find data showing the times your audience is most likely to be online. Within the app go to Insights, and within the 'Overview' section, tap on 'Total followers'. You will then see details about your audience, including their most active times – by day, and by hour. In the example shown below, there are no preferences for a day of the week, however, more followers are online early evening – so that is the best time for the account to post.

Twitter
Natively, Twitter does not provide details about your followers and when they are online. However, Followerwonk has an 'Analyze' tab where you can add the username of your account and analyze your followers. Within the (free) report you will see the most active hours of your followers. There's a clear peak at 9am in this example, so this would be a good time to post.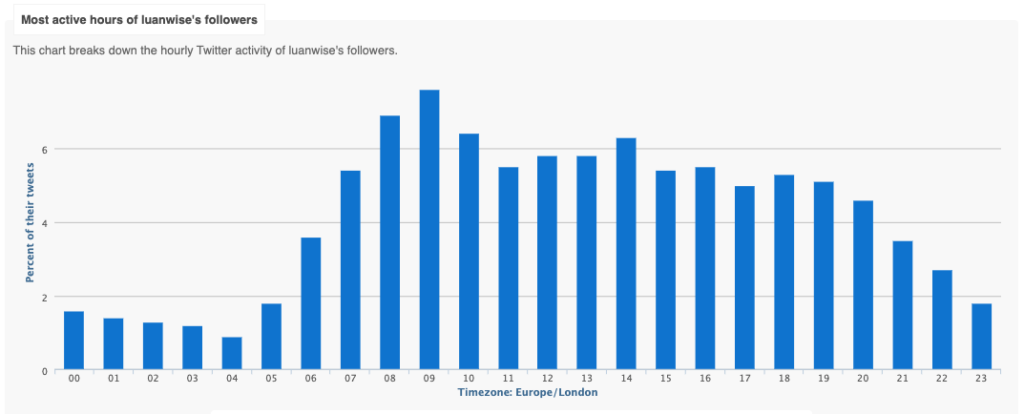 TikTok
As with Instagram, you will need to switch your TikTok account to 'Business' or 'Creator' to access audience and performance insights. You will again see follower activity by day, and by hour. In the screenshot below there's more follower activity around 8pm, so this could be the best time for the account to post.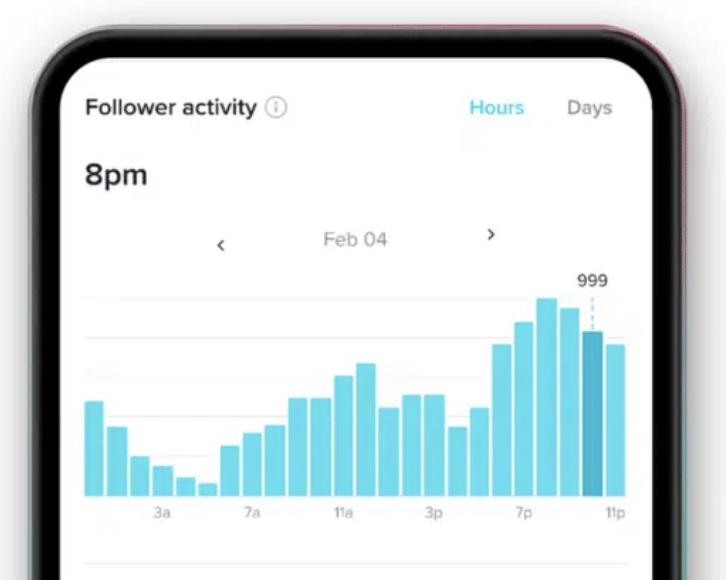 Scheduling tools
There are many social media management tools to help you with scheduling, such as Buffer, SoCrowd and Hootsuite. These tools also provide guidance on the best times for you to post, based on the information they are gathering about your content and followers.
* To note: LinkedIn does not have any account-level data – so you will need to test and learn from your own activity. My own observations are that LinkedIn is a slower-paced platform and content receives engagement for up to two weeks.