Reading Time:
2
minutes
Awareness days, weeks or months are set up by individuals and organisations to mark an occasion or to raise money for a charity/cause. There's an awareness day for anything and everything you could possibly think of (and many you could not even imagine), from health campaigns and celebrating key people in history to anything food related.
When looking for social media and blog content ideas, awareness days are a great place to start. It's the best combination of using timely content that can be planned well in advance.
Awareness days are popular topics on social media since they generally involve a hashtag, which means they often start trending. If you can get involved in timely conversations, you'll be able to reach and engage with a large audience, quickly.
Keep it relevant
Although it can be tempting to get involved with many of the awareness days, it's best to stick to those that are relevant to your business. For example, as the author of 'Relax! It's Only Social Media' it's highly appropriate for me to get involved with World Book Day (the first Thursday in March), Social Media Day (30 June), Book Lovers Day (9 August) and Read a Book Day (6 September). Of course, you can be a little creative in how you make the link between your business and the awareness day, but there does need to be a link, or you will simply confuse your audience and waste your time.
My top website recommendations for researching awareness days are Days of the Year, Project Britain, Awareness Days, Worldwide Weird Holidays, and NHS Employers for health and wellbeing events.
Here's a useful key dates worksheet to write them down.
Get involved
You can get involved with using awareness days for social media content with anything from an Instagram post or a few Tweets to a blog article, perhaps you could run a competition, or you could even use an awareness day as a reason to run your own event. For example, on 8 March 2019 I hosted a breakfast event to link the #SheMeansBusiness campaign with a celebration of International Women's Day.
If you're looking for inspiration, take a look at the examples below from LinkedIn, Innocent and Krispy Kreme, and have a read of this World Water Day campaign roundup from The Drum.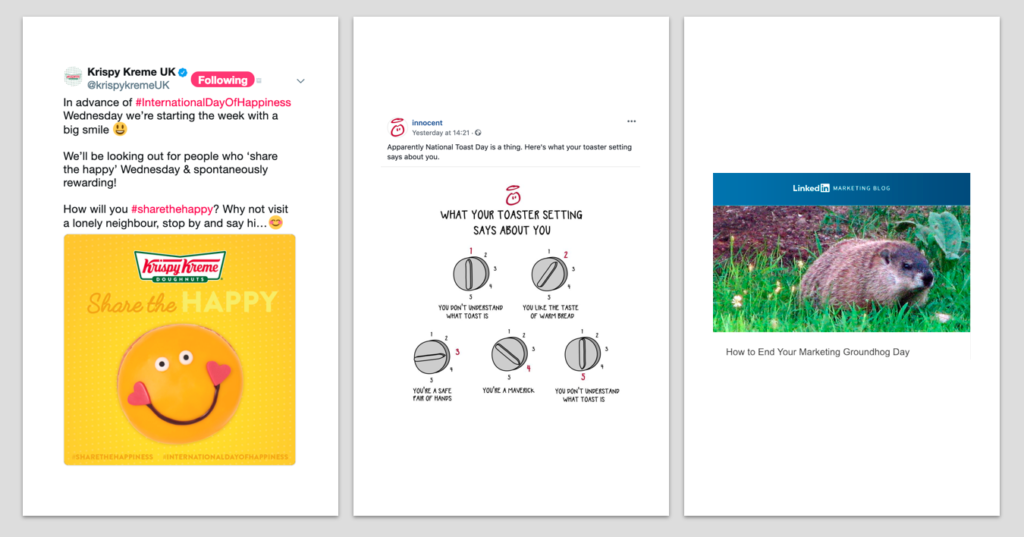 Further resources
Some other resources you might find useful for created pre-planned timely content include:
On This Day – historical events, famous birthdays, weddings, deaths and people from 6000 years of history.
This Day in Music – key dates in musical history including number ones and born on this day
Amazon – Search for 'book of days'; you might also find relevant books listing key dates in history for specific locations.