Reading Time:
5
minutes
"Change is inevitable. Change is constant" (Benjamin Disraeli)
This quote could not apply more accurately to the world of social media.
In 2021 LinkedIn continued to see growth from its active users, and surpassed $10 billion in revenue for the first time. The LinkedIn Pressroom notes that LinkedIn now has nearly 800 million members in 200 countries and regions worldwide.
Here's a summary of the key changes from 2021, including updates to personal profiles and Company Pages plus some new features that have been added.
PERSONAL PROFILE CHANGES
Pronouns
In March 2021 LinkedIn added an option to personal profiles to add gender pronouns. Since then, LinkedIn says more than 6 million users have added their pronouns to their profiles.
This is a simple edit in the top section of your LinkedIn profile.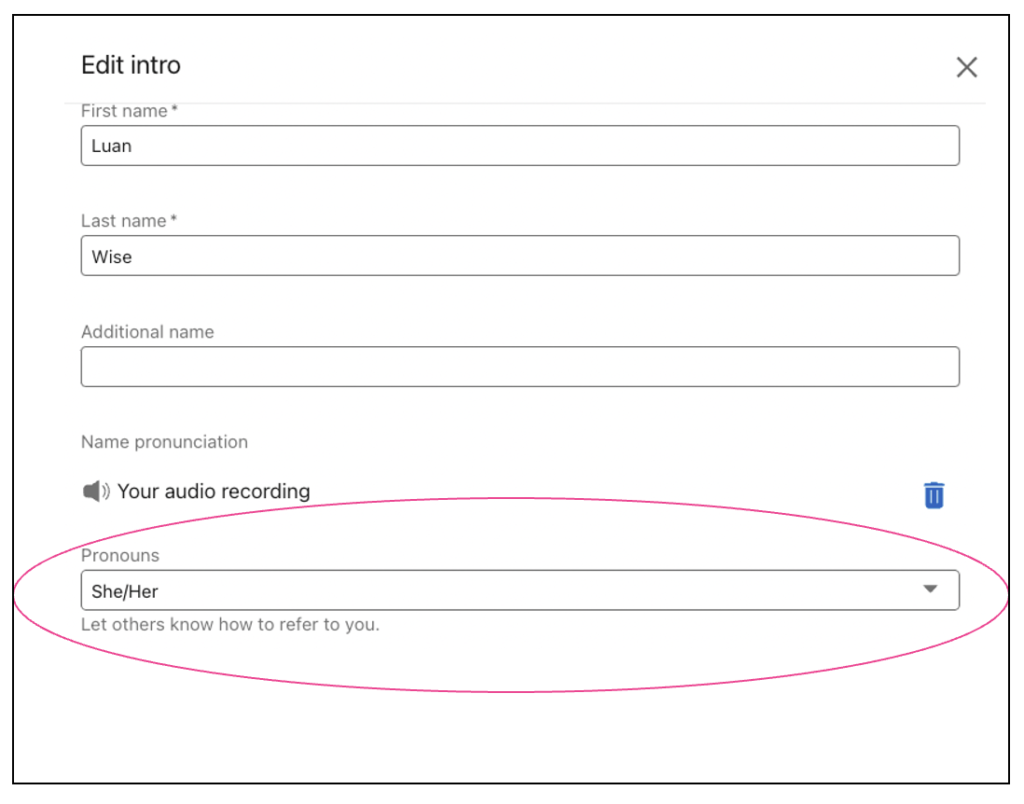 Video Cover Story
Bringing video into profiles on LinkedIn, there is now a feature that allows for a 30-second intro video on your personal profile. As LinkedIn's chief product officer Tomer Cohen describes it, you can use the space to give yourself a more human angle; use a video to explain briefly who you are and the services you offer.  An orange ring will appear around your profile photo and your video will auto-play when someone visits your profile. Clicking on the profile photo plays the full video with audio. Add a human element to your profile by introducing yourself to your intended audience, personally. By intended audience, I mean to focus on who you want to be reading your profile – potential employees, potential customers, collaborators?
Services 
LinkedIn Service Pages are dedicated landing pages that showcase your business and its products/services. A service page is associated with a personal profile and discoverable from within LinkedIn or via search sites such as Google.
This option is particularly useful for freelancers and consultants, allowing them to share more information about what they do. There is also an option for their clients to add reviews. It's free to add and free for people to message about services.
To create a Service Page:
Click the Me icon at the top of your LinkedIn homepage.
Click the View Profile button.
Click the Open to button.
Select Providing services.
Click the Continue button after reviewing How it works.
Complete the Service Page set up information.
Click the Next button.
Preview the information that will appear on your Service Page.
Click the Make changes button to adjust your Service Page or click the Publish button to make your Service Page viewable by members.


Creator Mode
LinkedIn's Creator Mode is a profile setting that can help you grow your reach and influence on LinkedIn.
To turn on Creator Mode:
Click the Me icon at the top of your LinkedIn homepage.
Click View profile.
Click on Creator mode: Off under Your Dashboard.
Click Next on the preview pop-up window.
Add topics (hashtags) to indicate the topics you post about the most.
Click Save.
Follow the prompts to turn on creator mode.
Once you turn on creator mode:
The Connect button on your profile will change to Follow*
You can display the topics you post about in your profile introduction as hashtags. This will make it easier for other LinkedIn members to discover your content and follow you.
Your Featured and Activity sections will move to be the first section on your profile. In addition, the Activity section on your profile will no longer include your likes, comments and other activities (They will still be available when you click on See all activity).
You can get access to creator tools such as LinkedIn Live Video and LinkedIn Newsletters if you meet the access criteria. 
*On LinkedIn, if you're 'connected' to someone, you will both be able to see each other's shares and updates on your LinkedIn homepage. 'Following' someone on LinkedIn allows you to see the person's posts and articles on your homepage without being connected to them. you 'Follow' someone on LinkedIn they will receive a notification, but unlike connection requests, they do not need to take any action to provide you with visibility of their content in your newsfeed. Following is not reciprocal so you will not see their content unless you 'connect.
If you're unsure of the benefits of following Vs connecting, get in touch.

COMPANY PAGES
Page Roles
As a Company Page administrator, you can determine what role other people play in accessing and updating your company page. In 2021 LinkedIn expanded the list of page roles to include more options, allowing more flexibility for what role employees can play.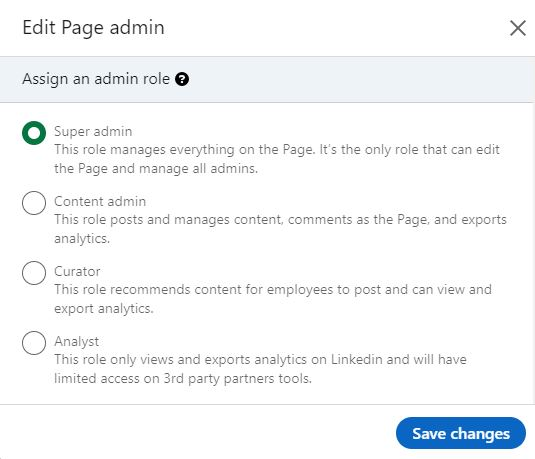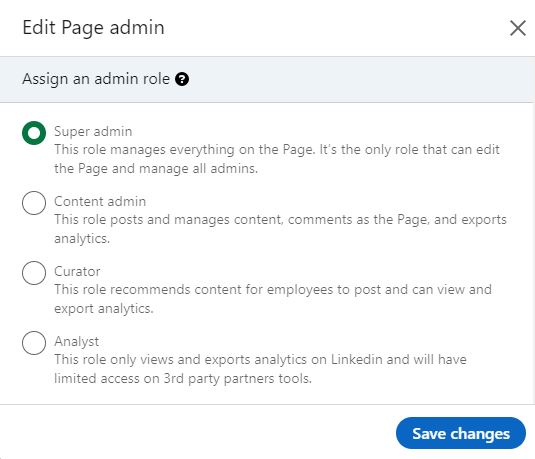 In addition to the roles shown in the screenshot above, LinkedIn lists its 'Paid Media Admins' in a separate category. Check out the full list of page roles, here.
My Company
LinkedIn first added My Company tools in February 2021, providing a means to directly communicate with employees via the platform to encourage sharing of updates. Throughout the year LinkedIn added additional features to the My Company tab, focusing on the principle that individuals can drive more engagement on LinkedIn than brand profiles.
With the My Company tab, your employees can:
• Share organic posts and content curated by your marketing and talent branding teams to build employee advocacy
• Measureemployee advocacy with analytics
• Access a trusted, employee-only community on LinkedIn
• Celebrate one another, with quick insight into new hires and coworker milestones
• Interact with one another, by engaging with trending LinkedIn posts from their coworkers
• Connect with one another, through dynamic suggestions based on their location, team and shared coworkers
Articles for Pages
Until September 2021, long-form posts could only be created and shared on a personal profile. Now company pages can share blog-type articles via their company page. If you are creating blogs for your website, then this option to also add them to your LinkedIn company page is really useful.
Competitor Analytics
LinkedIn added new customizable competitor analytics to the LinkedIn Page Analytics tab. Here you add up to nine competitors to benchmark their LinkedIn Page performance.
Want to know more about administering a LinkedIn Company Page? Get in touch.
Boosted Posts 
A quicker way to create LinkedIn ads; you can now 'boost' high-performing organic posts from your LinkedIn company page, to reach a wider audience. You no longer need to go into ads management to create an ad – just click the button, follow the steps and add your payment information.
To understand more about LinkedIn Advertising, visit LinkedIn Marketing Labs for free online training courses.
Miscellaneous Changes
LinkedIn posts can now be 3000 characters (previously the character limit was 1800)
Native Video Chats. From the message chat window, you can now decide to have a video chat instead of sending another user a text message. While this has previously been available through third-party apps, it is now available directly through LinkedIn. It's a useful addition.
Live Events. Several changes have been made to the live events, including the fact that you can now schedule more than 7 days in advance, and it automatically creates a LinkedIn Event post when you schedule the live event.
For members and Pages with LinkedIn Live access you can now choose LinkedIn Live as an event format
For Pages with LinkedIn Live access, you can add a registration form to your live event
If you don't yet have access to LinkedIn Live, you can review the access criteria and apply here.
Stories. LinkedIn retired its Stories feature on 20th September.