Reading Time:
4
minutes
Understanding the privacy and settings of your LinkedIn profile brings a new level of confidence to using the platform. It is worth reviewing all the account preferences, visibility, communiations and data privacy settings on your profile, but there's a few I think you need to be specifically aware of when using LinkedIn.
1) Sharing updates
Before making any updates to your LinkedIn profile make sure you have switch off any notifications that might alert people to your activity. You don't need to make your network aware of every change you're making, especially if you are treating your LinkedIn profile as a living document and updating it regularly.
Login to your profile
Go to 'Me', underneath your photo, at the top of your LinkedIn homepage
Click 'Settings and Privacy'
Within the 'Visibility' section, scroll down to 'Share job changes, education changes and work anniversaries from profile'
Switch to 'No'
If you do wish to alert your network to an important change to your profile, change this setting to 'Yes' just before you make the change you want people to be aware of.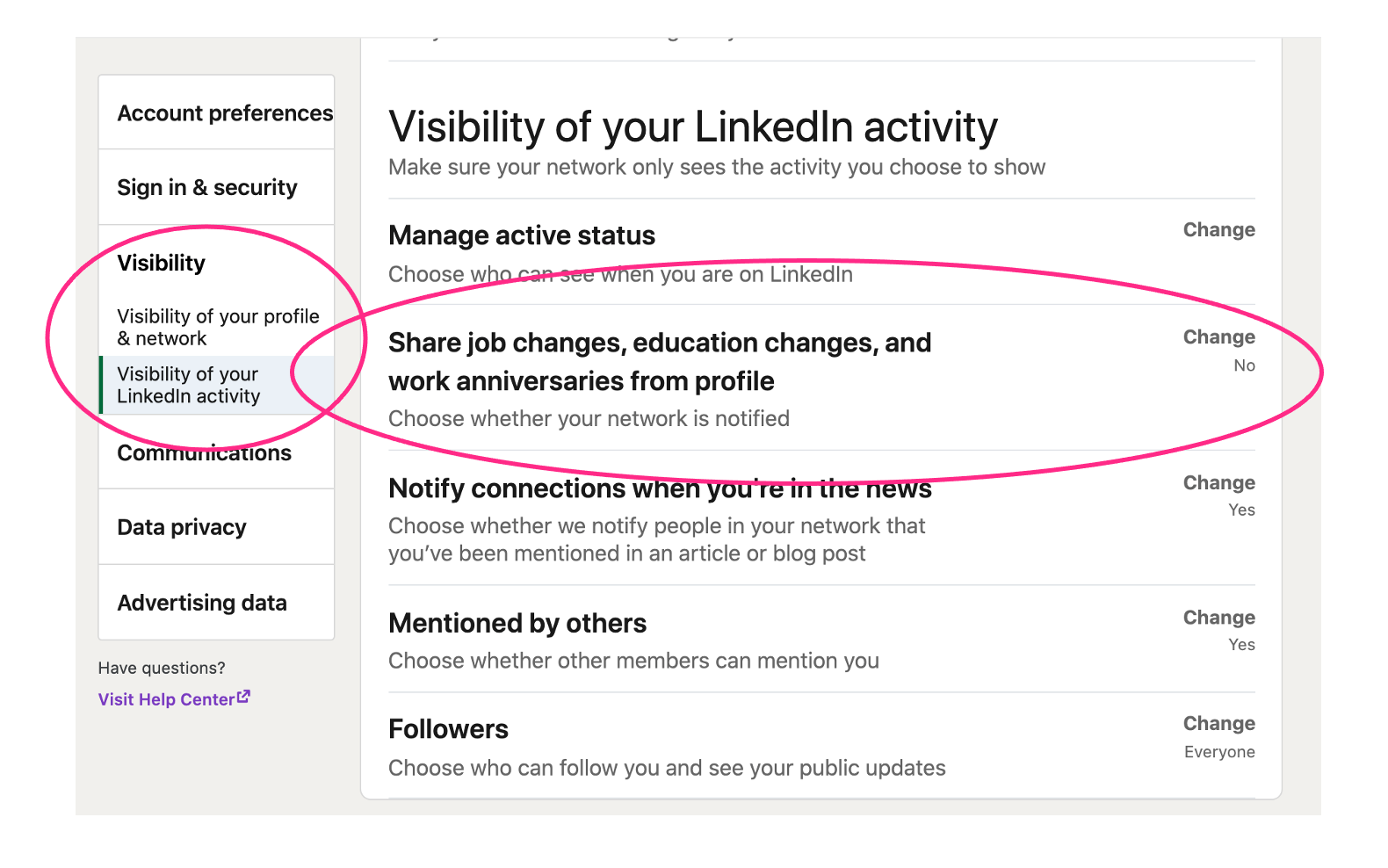 2) Who can see your connections?
This setting can be found in the 'Visibility of your profile & network' section.
By default, your 1st degree connections (people you are already connected to) can see your whole list of connections. Do you want to share all of this information, with every connection?
There are two options:
Your connections – if you are happy to share your connections openly, this is the option to select.
Only You – Are you connected to competitors or individuals that might find value in your connections list? If you have any concerns about people looking through your connections list, select 'only you'.
No matter which setting you choose, your 1st degree connections will always be able to see the connections you both share.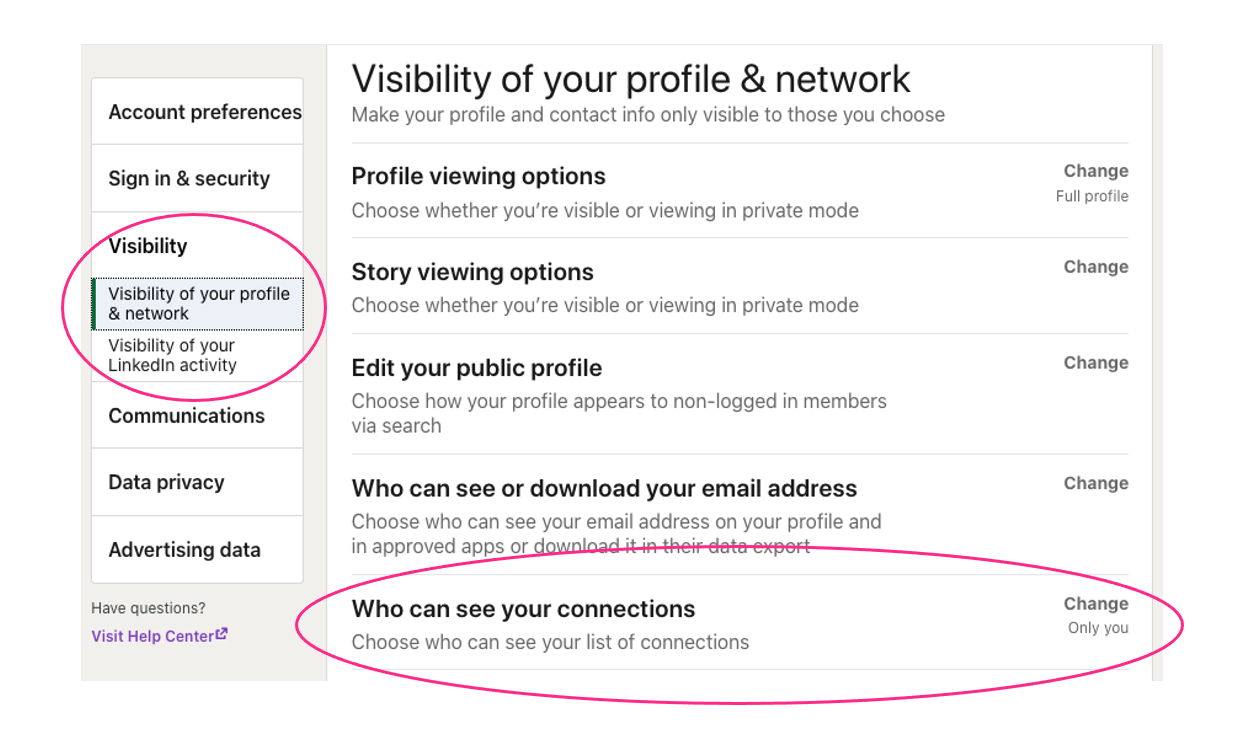 3) Viewers of this profile also viewed
When you're looking at someone's profile you may notice a list of other LinkedIn profiles that visitors have looked at. It's down the right-hand-side of your screen (desktop view).
There's two ways to consider this – you can view it as an opportunity, because more people may view your profile or you might also see this negatively. This is because it is highly likely to show up your competition! I personally switch this setting off. If people are searching for a marketing consultant I want them to focus on my profile, not a list of profiles that other people have also been viewing.
When you are using LinkedIn to research prospects – look out for other people not having this setting switched off. If you are viewing a client or prospect profile this grey box will show you a top ten list of your next target prospects!
You will find this setting in 'Account Preferences'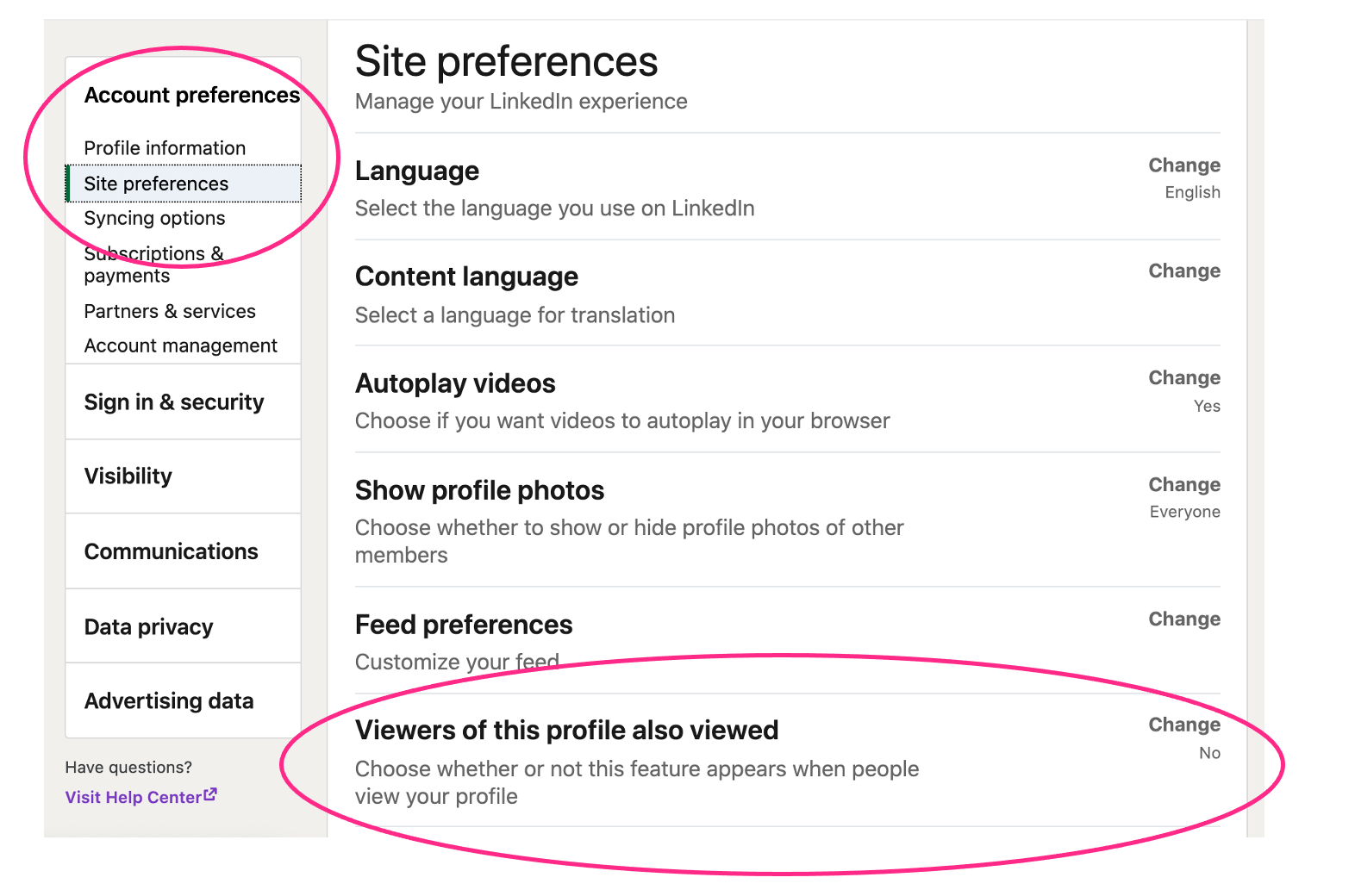 4) Profile viewing options
There are three settings which allow you to leave a digital footprint (or not) on the LinkedIn profiles you are viewing.
Your name and headline. This means you are fully visible. It also means you will be able to view who has looked at your profile (only the last 4 or 5 viewers, if you have a free account*)
Private profile characteristics. This option is pointless. If you see this kind of information when you look at who's viewed your profile, click on it. You will then see a short list of people matching the profile characteristics; it's usually easy to spot who's been looking at your profile!
Private mode. Although LinkedIn is a 'social' tool, sometimes you need to go into private mode and leave no footprint… for example when you're carrying out competitor research! Switch to this setting while you do your research, and then switch back to 'your name and headline'. LinkedIn will not retrospectively advise people that you have viewed their profile and you will lose only a small amount of the information about who's viewed your profile while you were in private mode.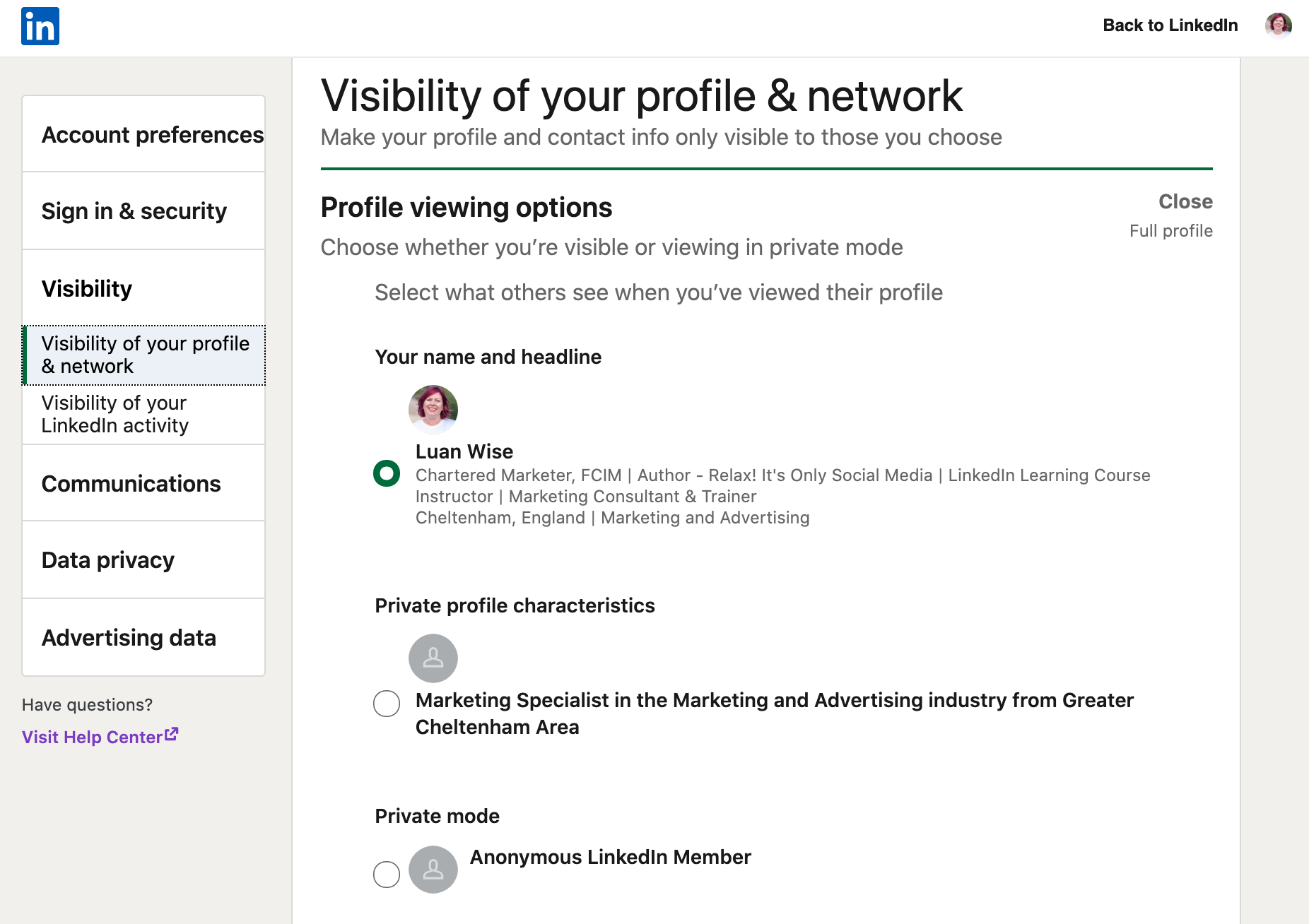 Login now and check your settings. Remember, you can change them at any time to suit your use of LinkedIn. To see a demonstration of how to change these settings, watch this video: