Reading Time:
8
minutes
This article first appeared on Social Media Examiner.
Need more visibility on LinkedIn? Wondering how to get employees involved with your LinkedIn content strategy?
In this article, you'll discover four ways to help your employees share more company content with their personal networks on LinkedIn.
Why Encourage Employees to Share Company Content on Your LinkedIn Page?
Getting your colleagues involved with your LinkedIn marketing, often known as employee advocacy, can deliver huge rewards for employees and company alike. As a marketing tactic, encouraging employees to share brand values and messages is a strategic and sustainable way to expand reach and engagement with customers, prospects, and other key stakeholders on LinkedIn.
There's a fundamental rule that people do business with people they know, like, and trust. So on LinkedIn, it's all about using personal profiles rather than focusing efforts on the company page.
Social selling statistics also confirm that social media success comes from employee profiles rather than corporate profiles. According to a report from We Are Social and Hootsuite:
People are 3 times more likely to trust content shared by people they know than content shared by brands.
People are 8 times more likely to engage with content shared by employees than content shared by brands.
People are 24 times more likely to reshare content shared by employees than content shared by brands.
Leads generated by employees convert 7 times more frequently than any other kind of lead.
You may want to share these statistics with your colleagues when you start asking for their help distributing the content you post to your LinkedIn company page. A simple reaction such as a like, comment, or share will help your page content reach your target audience in ways that your page can't achieve on its own.
To further convince non-marketing colleagues, I advocate demonstrating the importance of personal profiles versus a company page using your own data, like this:
Share how many followers your company page has.
Show how many employees shared a recent company page post.
Share how many followers/connections those employees have collectively. This number will likely far exceed your number of page followers, especially for small- to medium-sized businesses.
Once employees understand why you need their support and the power of their LinkedIn profiles to help amplify your company page content, here are a few ways to support those employees' activities.
#1: Apply the LinkedIn Employee Notifications Feature to Company Page Posts
As a LinkedIn page admin, you can let your colleagues know when you've posted an update to your company page using the LinkedIn Employee Notifications feature. All employees need to do is react (e.g., like), add a comment, or share it with their own network.
To use this feature, first post the update to your page. Then click the Notify Employees button in the upper-right corner of the post.
Employees who've linked to your company page in the Experience section of their LinkedIn profile will receive a notification on both desktop and mobile.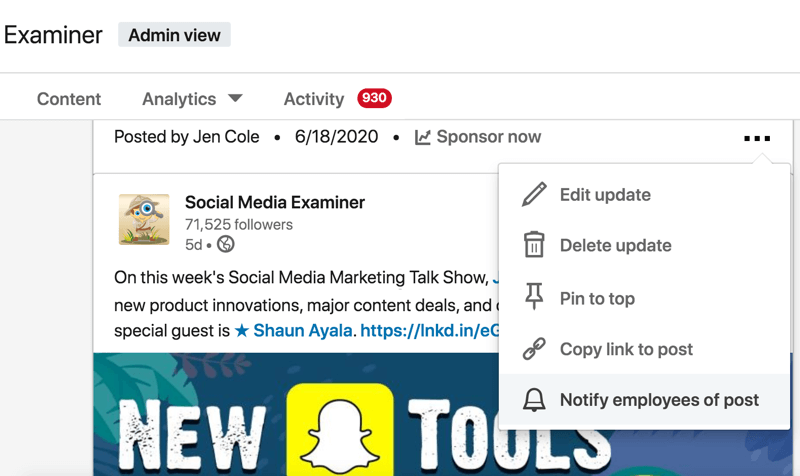 Note that page admins can only notify employees once a day. Notifications are delivered based on a relevance model that aims to notify a critical group of employees while maximizing the overall LinkedIn member experience. Some employees, including admins, won't receive a notification if the relevance model determines the update isn't content they're likely to engage with based on their history with the page.
Employees can opt out of these notifications at any time.
Pro Tip: Within your LinkedIn company page analytics, updates will be labeled with "Employees Notified" so you can gauge the reach and engagement generated by notifying your colleagues about page updates.
Help Employees Optimize Their LinkedIn Profiles
To get the most out of employees sharing your page content, help them optimize their LinkedIn profiles to present themselves and your business in the most credible and professional way.
Take them step by step through how to add information to key profile sections. Show them how to upload a profile photo and header image; write a headline that's not just the default job title and company name; and fill in About, Experience, and Education details.
To support your colleagues in writing their LinkedIn profiles, consider providing sample About section copy and some standardized text for their current role for the Experience section. I recommend including a short description of the business, as well as outlining key roles and responsibilities.
You can also provide sources of rich media for individuals to include in the Experience section. You might recommend web pages to link to and provide PDFs, presentations, and video. Taking these steps will help employees turn their LinkedIn profiles into real portfolios, better present the business to anyone viewing that employee's profile, and drive website traffic.
Also provide a list of applicable skills that relate to your industry and business. LinkedIn members can add up to 50 keywords on their profile to help their profile show up in search results.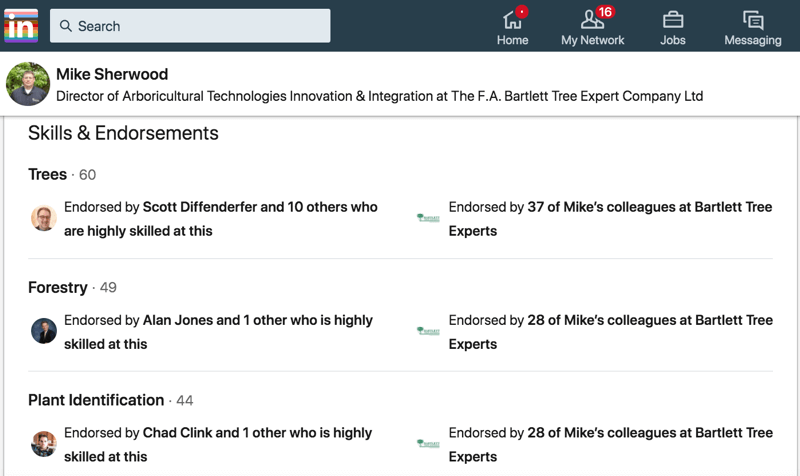 Once your colleagues have optimized their LinkedIn profiles, advise them on how to use LinkedIn to build a powerful network. The more effectively they grow their network, the greater opportunity for your page content to reach your target audiences.
#2: Use the LinkedIn Teammates Feature to Prioritize Content From Company Contacts in the LinkedIn Feed
To encourage further internal collaboration within the company, encourage employees to use the Teammates feature, which is currently being piloted by LinkedIn. This feature will ensure employees see LinkedIn updates from their current team such as their manager, teammates reporting to their manager, other teammates, and direct reports.
Notifications include updates such as work anniversaries, birthdays, posts, shares, and comments. Teammates won't see any private actions such as direct messages, searches, or job posting views.
To use the LinkedIn Teammates feature, click the My Network icon at the top of your LinkedIn homepage and click Teammates on the left.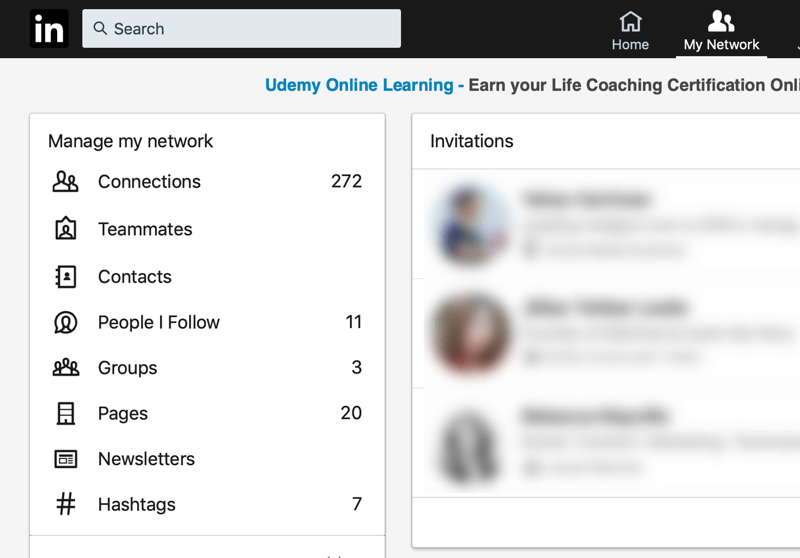 You'll then be redirected to a list of current team members. Anyone you wish to add as a teammate must have your business listed on their LinkedIn profile.
Click the Add icon to add a manager, teammates reporting to your manager, other teammates, or direct reports.
In the Add Teammates field, type the name of a teammate you'd like to add and then click Add next to your teammate's name. If you're not connected to your teammate on LinkedIn, you'll have to click Connect next to their name before you can add them to your team.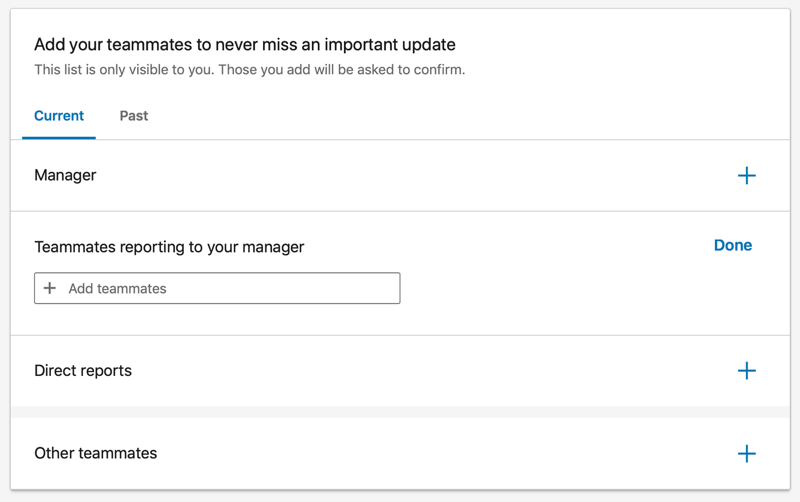 After you've added your teammates, manager, peers, and direct reports, they'll receive a notification alert and have the option to verify your relationship, which will prioritize how they see your LinkedIn activity in their feed. If they indicate that the information is incorrect, your LinkedIn activity won't be prioritized in their feed. You'll still receive prioritized content from them because you've added them as a teammate.
Your list of teammates is only visible to you, although your connections may be notified when you add teammates. At any time, you can manage whether you'd like to be notified about all updates, highlights, or only updates related to you.
LinkedIn is working to improve the feature and soon you'll be able to add other types of co-workers and important professional relationships. At this time, you can add up to one manager, 19 teammates who report to your manager, 20 direct reports, and 30 other teammates. Any teammate who no longer works for the same company will automatically be moved to your past team.
#3: Solicit Employee Content for Your LinkedIn Company Page
As a marketer, you need to collect relevant news from within your company to share on LinkedIn. You'll want to keep tabs on what employees are working on and solicit content that reflects your company culture. And if you're not a subject-matter expert, you may need assistance from employees to create some of your content for LinkedIn.
These challenges aren't unique to social media, but with the requirement to produce regular and timely content, you need to set up internal processes to garner support from employees.
Here are a few tips to get results:
Share your marketing and social media plan across the company so employees understand what you're trying to achieve.
Find social media champions among employees. Perhaps identify one key contact per team who can be your go-to person.
Offer to feature employees on your social media profiles. Playing to their ego might help you get all of the important behind-the-scenes content that receives high engagement on LinkedIn.
Ask employees straightforward questions to get their input: What client successes can you share this month? What are your prospective clients' FAQs? What's your opinion on this latest industry news article?
Don't rely on email to receive responses. Invite employees out for coffee (or virtual coffee) to ask your questions. Record the conversations (with permission) to free you up to fully engage and then use an app such as Otter.ai or Rev to transcribe them later.
Close the loop and share feedback (including performance metrics) on the LinkedIn content that employees help you create. If they can see the results of their input, they'll be more likely to keep helping.
#4: Guide and Support Employees in Posting Their Own LinkedIn Profile Updates
While having employees share content from your LinkedIn page is great support, you may also wish to support your non-marketing colleagues in creating their own content for LinkedIn—posts that can be shared by teammates and other network connections.
Some employees will be able to dive right in, knowing what they want to post on their profiles, but others may need a few suggestions. Here are some examples I share in training:
What are you working on/preparing for?
What are you looking forward to? (For instance, an event or presentation)
What did you learn from a recent event you attended?
What has inspired you that you'd be willing to share? For example, have you watched a TED Talk or found a great new resource?
Do you have a question about a recent piece of industry news?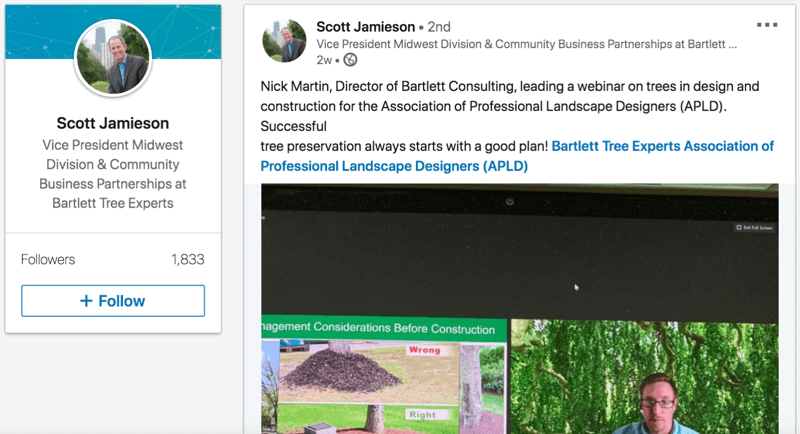 In addition to sharing these ideas, consider providing technical how-to support for employees who lack the confidence to post on LinkedIn. Include best practices such as the best LinkedIn hashtags to use. Offering training and ongoing guidance can help ensure consistency across the business.
It's also important to share some do's and don'ts for posting on LinkedIn such as don't violate client confidentiality. You could provide a detailed social media policy or an internal document with examples. Here's a "before you post" list that I use:
Have I read the link I'm sharing?
Am I sharing information from a credible source?
Who'll see this post? Is it relevant to my audience?
Does this post reflect positively on me/my company?
Is it true? Is it helpful? Is it inspiring?
Would it be better to send this information as a private message?
What additional insight or opinion can I include to give context to this post?
The easier you can make it for non-marketers to support your LinkedIn marketing, the better. You can also encourage them to measure their individual success by analyzing their LinkedIn profile using the LinkedIn dashboard.
Conclusion
Asking for help from colleagues and peers is never easy, but when it comes to getting results from your LinkedIn marketing efforts, it's hugely valuable to get them involved. Marketers might have all of the technical skills for social media management and lots of content ideas; however, they might not always be the subject-matter expert within the business. And they may not have the largest network of clients and prospects among their own connection lists.
That's why you should consider getting employees involved in your LinkedIn marketing. Show them how their profile can be a tool that can support your wider business strategy.