Reading Time:
7
minutes
This article first appeared on Social Media Examiner.
Want to create deeper relationships with people on LinkedIn? Wondering how to encourage purposeful conversations with the people in your LinkedIn network?
In this article, you'll discover three tips to spark conversation on LinkedIn via connection requests and feed posts.
#1: Compose Conversational LinkedIn Connection Requests
If you want to connect with someone on LinkedIn with no prior meeting or conversation, it can be helpful to follow them first before sending them a connection request.
Following someone on LinkedIn allows you to see their posts and articles on your home page without being connected to them. It's only a one-way relationship; they won't see your posts or activity in their feed or notifications.
Following first can be a useful way to gather insights about a person and their business so you have something to mention when you approach them to connect on LinkedIn. A personalized invitation with a positive comment and perhaps highlighting a common interest will grab their attention and make a great first impression. This helps you stand out from the impersonal, generic "I want to join your network" messages.
If you view someone's LinkedIn profile and wish to follow them, don't click on the blue Connect button. Instead, click the More icon at the top of their profile and select Follow from the drop-down menu.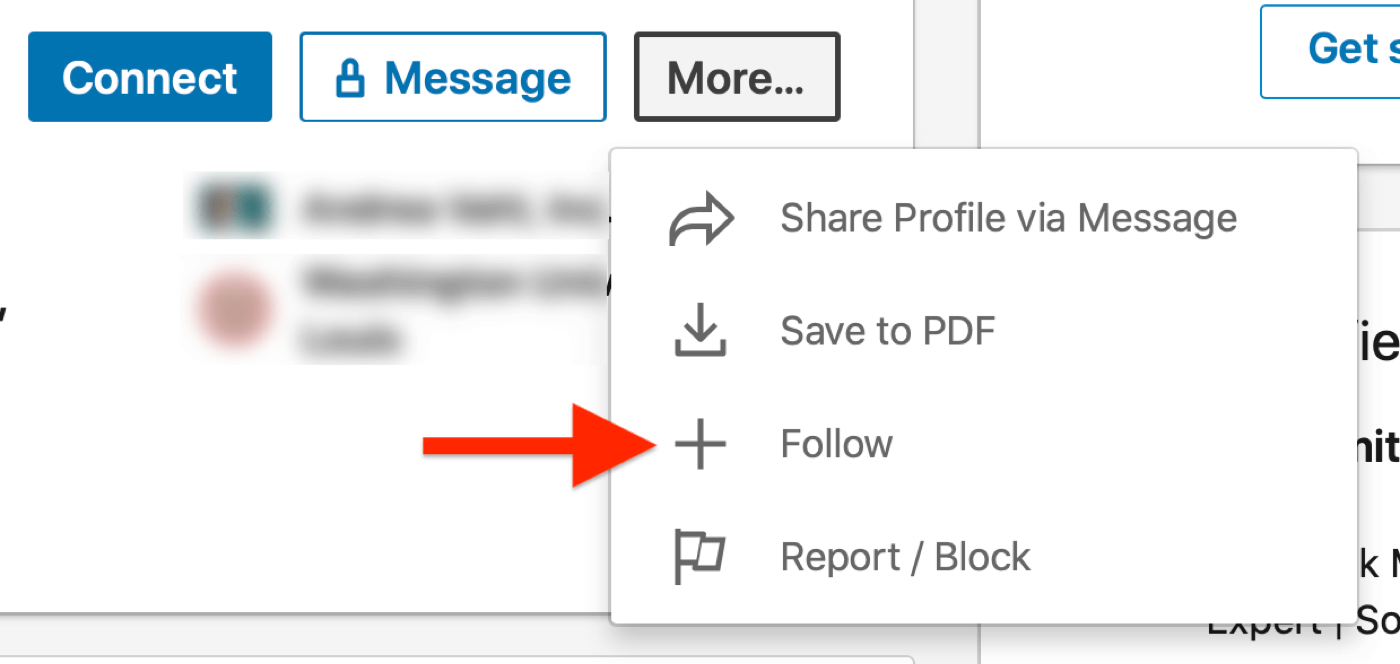 They'll receive a notification about your follow but they're not required to take any action.
Pro Tip: Some LinkedIn users have Follow as a default option on their LinkedIn profile. If you see this instead of the Connect button, you can just click/tap on this option to follow the user. When you're ready to connect, click the More button and select Connect from the drop-down menu. Note: LinkedIn users are limited to following 5,000 people who aren't connections.
When you send a connection request to someone on LinkedIn, personalizing it with a short message will make it more likely they'll respond. And if you include a question, it's easier to initiate a conversation because you've prompted the recipient to respond.
To personalize your message on the desktop version of LinkedIn, click on the blue Connect button on the person's profile and then click Add a Note.

LinkedIn has a 300-character limit for connection requests so be succinct with your introductory message. Don't try to sell—it's far too early in the relationship; it's like proposing marriage on your first date.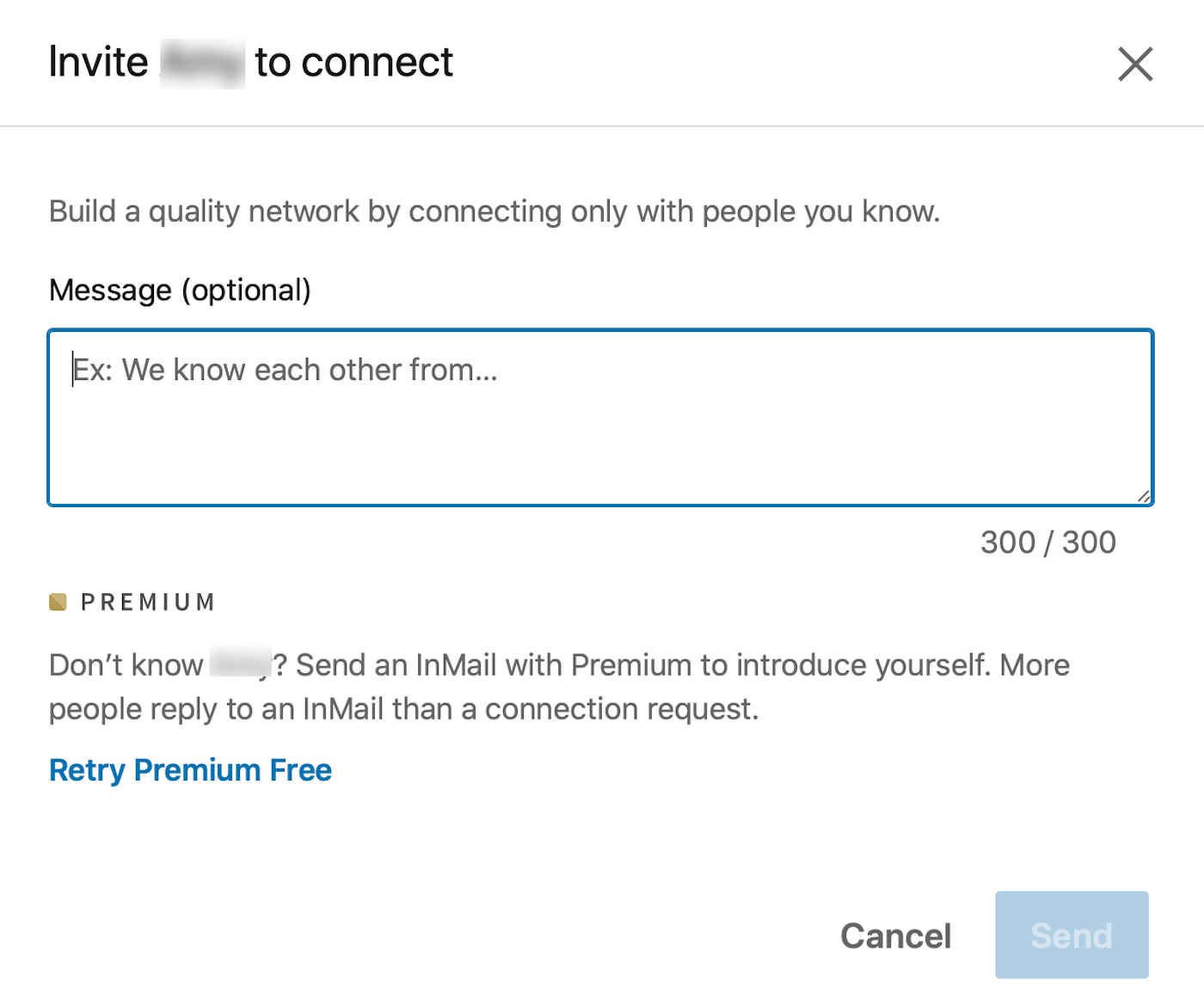 When writing your message, put yourself in the recipient's shoes and let them know what's in it for them to connect with you. It's not about you and how you wish to grow your network; consider why they might want to respond to your message and not delete or ignore it.
When using the LinkedIn mobile app, you can personalize your message by tapping on the More button in the top section of the person's profile. Don't click on the blue Connect button; that will prompt LinkedIn to send an automated request to the recipient without your message.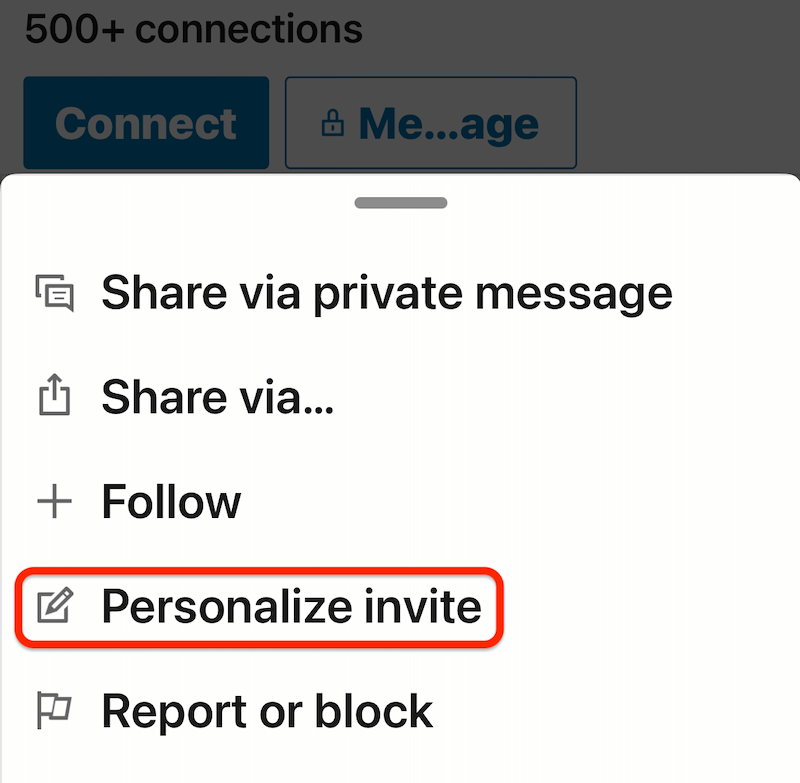 If you receive a LinkedIn connection request with a message, click on Reply and say thank you. Add more text if you can to keep the conversation going. Follow up with a further question or maybe offer a link to a resource you think your new connection might find helpful.
If you receive a connection request without a message, you can take control and send a message to start a conversation. I use a simple template like this (personalizing it where I can):
Hi <first name>
Thanks for your invitation to connect. I don't think we have yet met (forgive me if we have!).
Is there anything I can help you with right now?
Best wishes, Luan
To send a reply to a connection request that has no personalized message with it, go to the My Network tab and click on See All next to your invitations.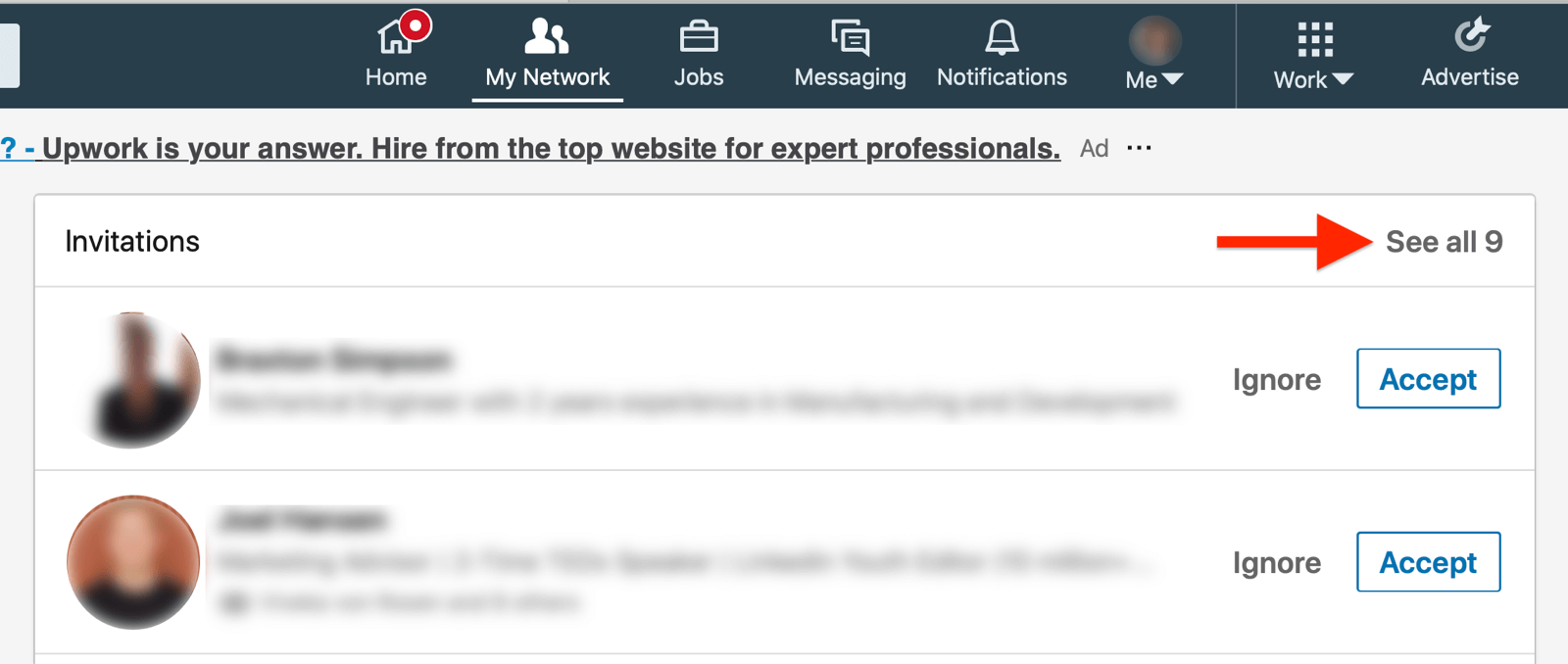 On the next page, you'll see a blue Message option. Click on this link to send your personalized message. When you receive a response, follow up to keep the conversation going.

#2: Include Questions in LinkedIn Posts to Invite Conversation
After your initial connection with someone on LinkedIn the conversation can stop for a while, especially if there are no immediate opportunities. The interaction from a strong first impression won't be lost, though. This is when it's important to show up consistently by appearing in the LinkedIn feed with content.
Do your LinkedIn posts attract attention? And I don't mean in a clickbait, algorithm-chasing way.
The best starting point for posting on LinkedIn—or any other social media platform—is to publish content in response to what's happening in your industry and the world around you. Business professionals like to learn new things and discover alternative viewpoints so let them know what you're working on, what events you're attending, and share content (such as a new TED Talk) that you've found inspiring.
You can keep on top of the latest news by following LinkedIn's Daily Rundown and looking at the latest news from your home page.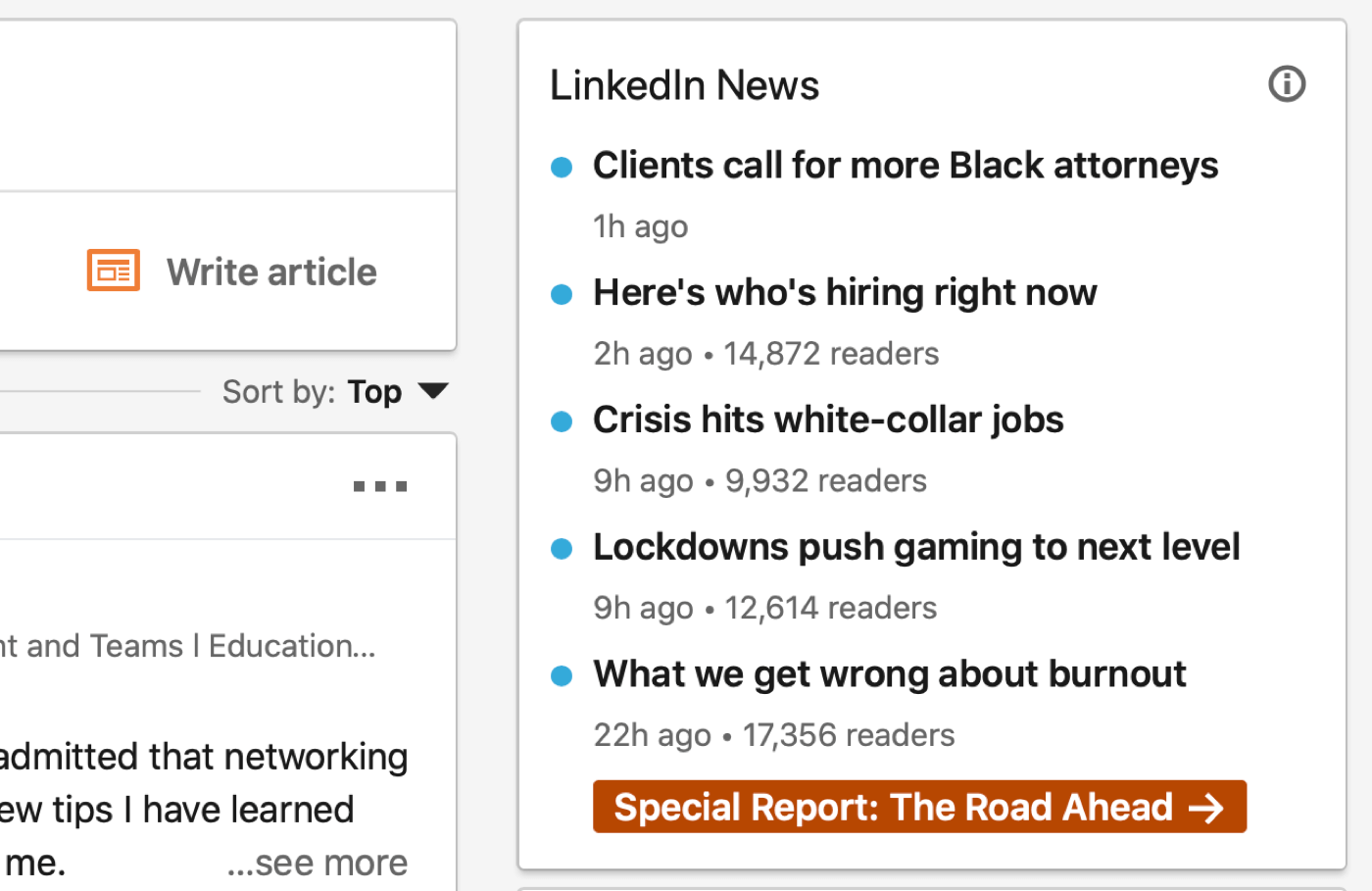 The most effective way to spark conversation from a LinkedIn post is to ask a question and then stick around to engage with comments and messages to keep the conversation going.
When you ask a question, you're inviting your network to get involved by sharing their thoughts and insights with you. People know that questions need answers so it's clear what action they should take after reading your post. If you don't ask a question to engage readers, they'll keep scrolling.
Make sure your questions are open-ended. Closed questions that require a simple yes or no answer won't stimulate conversation.
When you receive likes, comments, and shares on your content it will appear in more LinkedIn feeds, which means more views and hopefully an increasing number of likes, comments, and shares. When your post achieves engagement like this, you're creating a conversation trigger.
For every comment you receive on a post, do you respond? It could be with a simple "like" to acknowledge it or you could respond to a comment with a short acknowledgment or another question to try to further the conversation.
Tips to Take Conversations Deeper
Another option is to take the commenting to a private message—starting with a thank you for the engagement on the public post and a request to continue the conversation via a private message, phone call, or meeting.
Private messaging can be more meaningful because it allows you to send more personal and detailed responses away from the eyes of potential competitors who can view public comments.
Don't forget you can also comment on other LinkedIn members' posts to start conversations. I strongly recommend seeking out posts from your target customers and key influencers so you can attract their attention—as well as the attention of their connections—with your knowledge and expertise.
#3: Sparingly Tag Key People or Businesses on LinkedIn to Ask for Their Insight
When you post content on LinkedIn, you can @mention people and companies within the text, as well as tag people in photos or images. When you tag someone in a post, that person will receive email and app notifications of the mention (unless they've turned off this notification setting).
Tagging key people in your LinkedIn content is a great way to attract attention and get people involved with your post such as the speaker at an event you enjoyed or the author of the article you shared. However, make sure you're judicious in using this tactic. Tag people only when they're likely to have a genuine interest in joining the conversation.
If the person you tagged comments on your post, you can continue the conversation within the thread or take it to a private message.
To mention people or companies within a LinkedIn text post, type @ and then begin typing their name. You'll see a list of potential people you can mention. Click the name of the person or people you want to mention and then continue typing your message.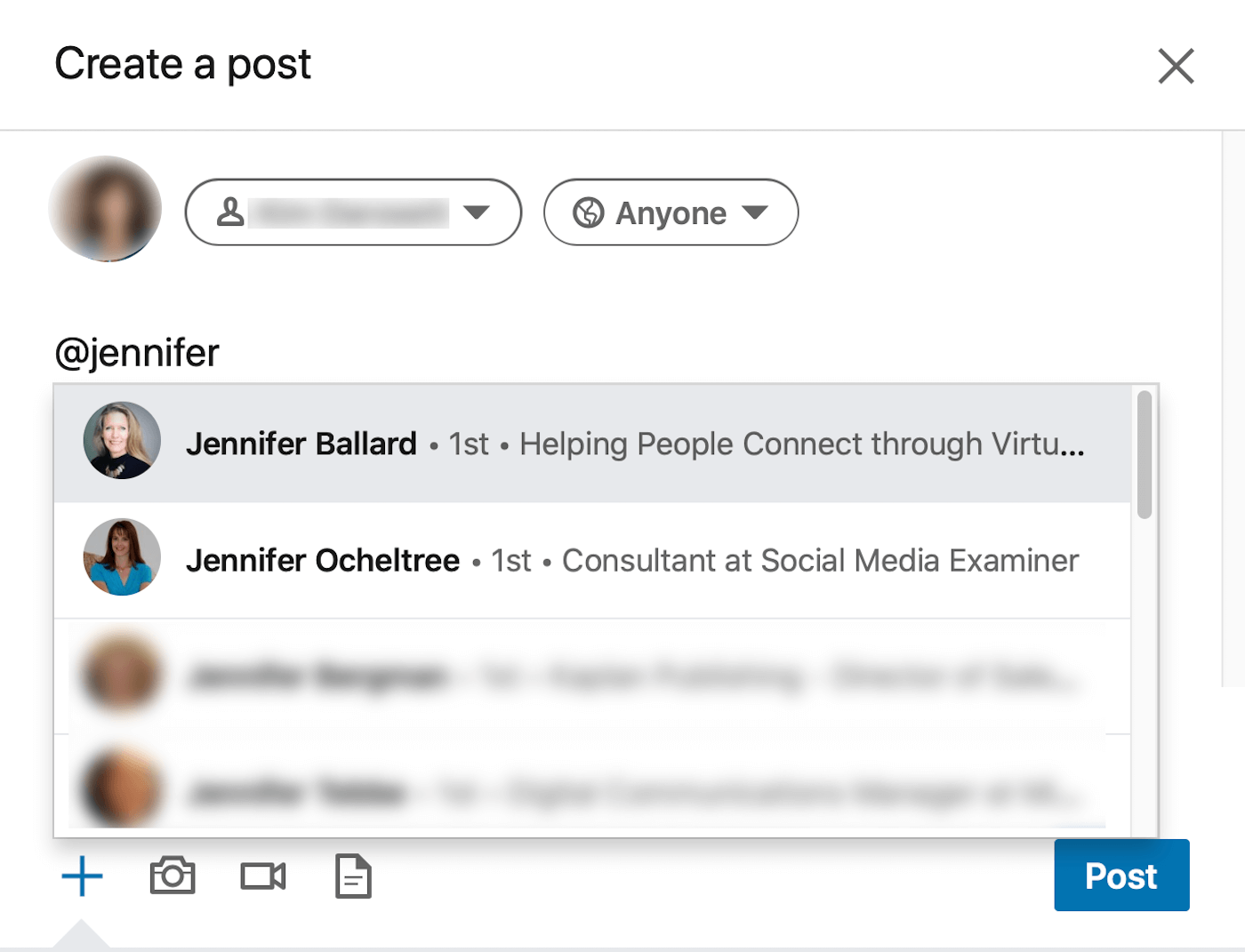 To tag someone in a photo in your LinkedIn post, click the Photo icon in the Start a Post box and choose which file you'd like to upload. You can select up to nine images for your post.
Click anywhere on the photo and type the name of the LinkedIn member you want to tag. Select their name to add the tag.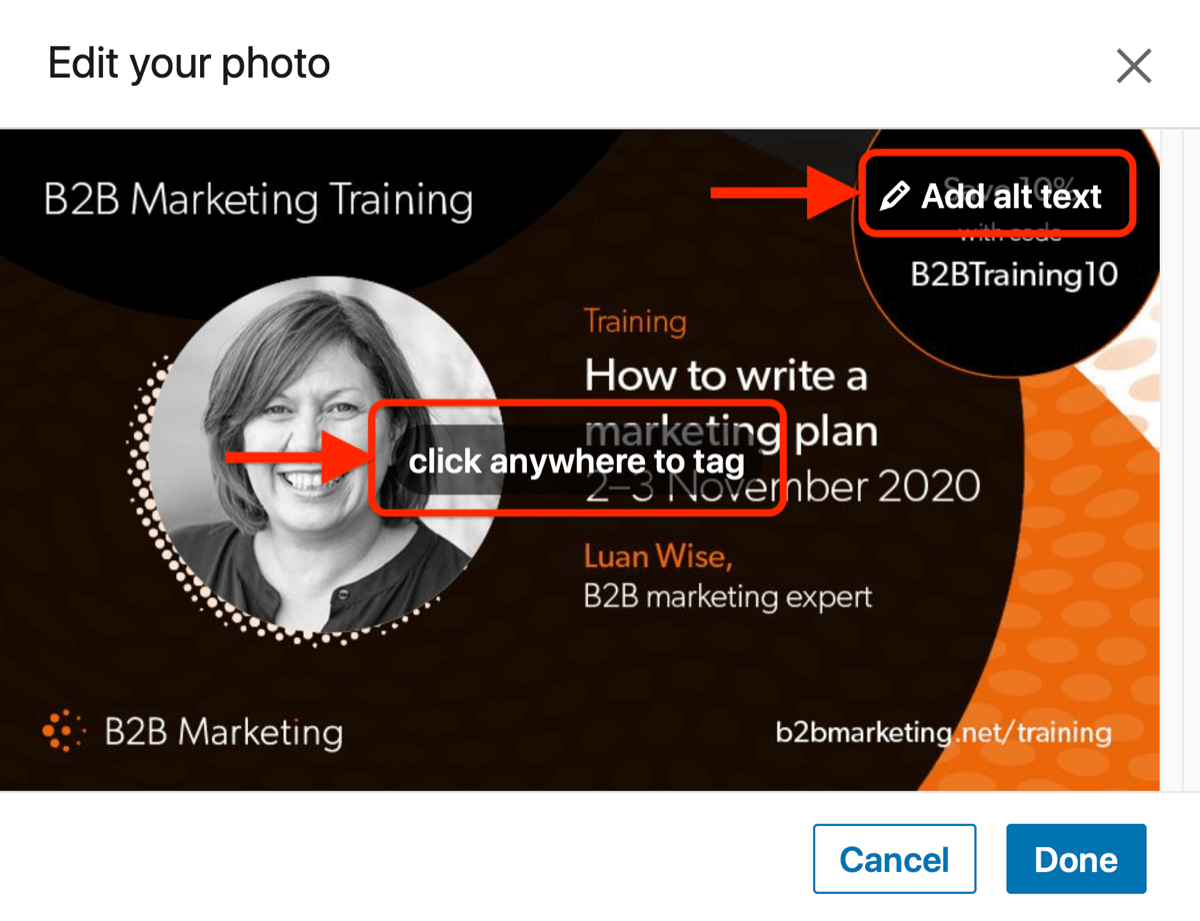 Repeat these steps to tag more people. LinkedIn allows you to tag up to 30 people per photo. For multiple photos, scroll to each selected image on the edit image screen.
Click Add Alt Text to describe the contents of your photo. Then click Next to return to the preview stage.
Now add a caption (up to 1,300 characters) in the text box and select who you want to share your post with. When you're done, click Post to publish it.
Conclusion
Comments and shares on LinkedIn posts are great conversation starters, but to get the best results for your business, you need to develop your posts into conversations that have purpose and focus on getting results.
Meaningful conversations on LinkedIn help you build relationships that can ultimately help you achieve your next opportunity—whether that's a new job, client, partnership, or an opportunity to speak at an industry event.
From small exchanges of messages, larger conversations can grow. From publicly visible likes and comments, try to move into someone's LinkedIn messages with more detailed and personalized responses. You need to be looking for the triggers and act on them quickly while they're fresh enough for your input to evoke a positive response.
Nurturing your LinkedIn connections through online conversations can then progress to telephone calls and meetings. Nothing beats a face-to-face conversation for building the know, like, and trust factor that business relationships depend on.
What do you think? Are you taking advantage of opportunities to start purposeful conversations on LinkedIn?