A no-nonsense guide to social networking for you and your business
Relax! It's Only Social Media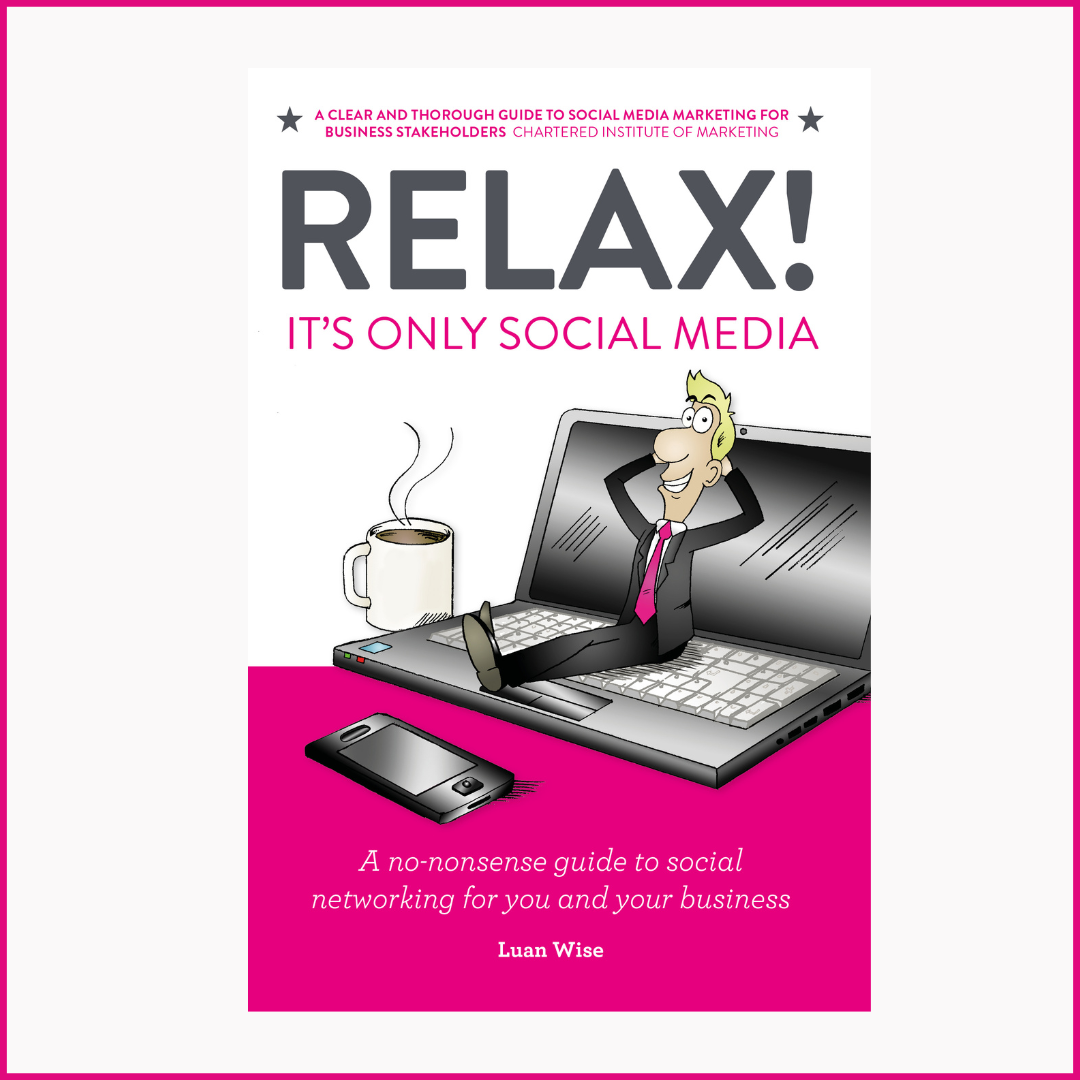 Bringing the business of social media back to basics
There are lots of 'how to' books on social media, and no end of blogs, but there are few that address the fear that many people have about using social media – the fear of not really knowing what to do, and not wanting to get it wrong.
My aim with 'Relax! It's Only Social Media' is to bring the business of social media back to basics: to compare the new with the traditional, to adopt a planned approach, and to ensure that you know how you can get results for your business.
Published in November 2016, and winner of an Indie National Excellence Award, this book stands the test of time with its practical approach to using social media for business.
The second revised edition is due for publication in 2023 and will feature exclusive findings from a research study in collaboration with Warwick Business School. 
Who is this book for?
If you're a marketer or a business owner, director, manager with responsibility for marketing, this book is for you. If you're involved in customer service, recruitment or sales you will also find this helpful to your day-to-day role. You'll probably be using social media already, but know you could be using it better.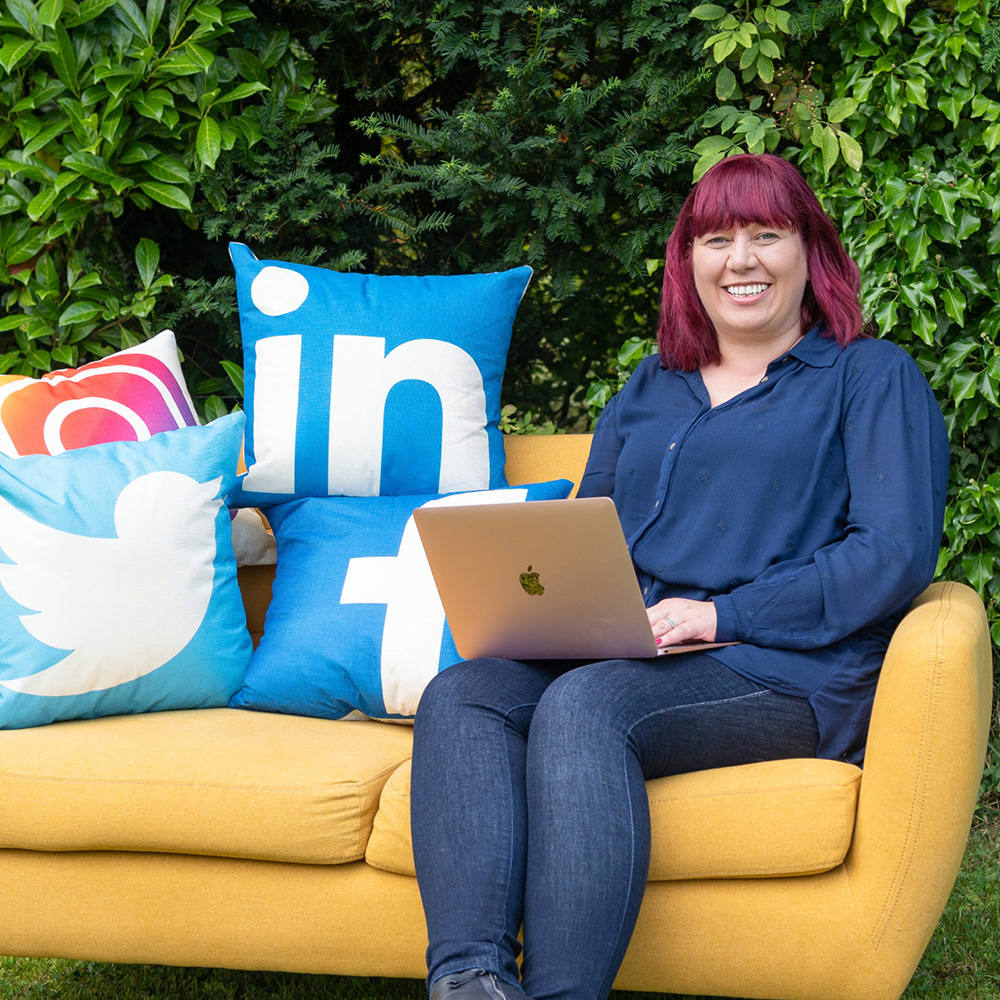 Luan Wise is a chartered marketer with more than 20 years' experience of working with clients including Hilton, Royal Mail, Panasonic, and the University of Cambridge.
Luan's career in marketing started 'web first', managing content and building online communities. She helped many businesses to produce their first websites. For most of her agency-side career, Luan worked for Hilton, planning and managing complex multimedia, multi-site promotional campaigns for its national and international chain of health clubs. In 2007 Luan switched to become a client-side marketer, joining a new business operating in the newly liberalised postal marketplace. With Luan's support, the business's annual sales rocketed from £3 million to £60 million over the next five years.
In 2009 Luan discovered social media and hasn't put a smartphone down since.
Her practical marketing expertise has awarded Luan many invitations to speak at business events. She's also won many accolades, including being named one of the top five female marketers by LinkedIn UK for its International Women's Day campaign, and being included in the South West's '42 under 42' list of the region's brightest talents.
Today, Luan runs a successful marketing consultancy, providing marketing advice, practical hands-on support, and training. She is a course instructor for LinkedIn's own online learning platform and an accredited trainer for Facebook.
Hear how 'Relax! It's Only Social Media' helped IH Manchester Football Academy.
Praise for the first edition
"The writing style is approachable, practical and above all friendly. The title of the book is very apt. I feel more relaxed about marketing my business via social media already, thanks to this book. Somehow Luan has managed to distill a huge amount of her knowledge and expertise into this book whilst making it easy to read, very understandable and exceptionally comprehensive. This will become one of my "go to" business books without a doubt."
"I sat and read this book just this morning cover to cover. I'm already in the social media industry but always interested to read and learn from others as I'm self-taught. What I gained was a reassurance I'm doing things right, some different angles to look at what I'm doing that I could do better and a few more tools that might help me super charge the efficiency of what I do. 100% recommend this book."
"Before I read this, my social media knowledge and use of it was average to say the least. This book is accessible without being patronising and has really improved my social media profiles. Well written, easy to read, clear and understandable, with lots of resources to help you get the most out of your profiles and social media marketing. I recommend to any small business owner. So helpful, you really do relax about using social media."
"Just what I needed! I am about to dive into the (for me) uncharted depths of social media to promote my business and this book has been a godsend! It's very well written, gives lots of useful tips and resources. I feel much more confident and knowledgeable about social media marketing than I was 24 hours ago."
"I sat and read this book just this morning cover to cover. I'm already in the social media industry but always interested to read and learn from others as I'm self-taught. What I gained was a reassurance I'm doing things right, some different angles to look at what I'm doing that I could do better and a few more tools that might help me super charge the efficiency of what I do. 100% recommend this book."
"You can tell Luan really knows her subject matter and the book is rammed with practical information without overwhelming the reader. Online platforms can change incredibly quickly, but because the book focuses more on the why of social media, the marketing aspects won't date. I also really appreciated the case studies so I could see her advice being put into action and the resources were also really useful. I thoroughly enjoyed this book. It's pretty much the one-stop shop of social media books. If it's not in this book then it simply isn't relevant!"
"I have always thought of social media as a necessary evil – part of modern marketing that just had to be done, somehow. But after reading Luan's book and putting some of her suggestions into practice, I realise that social media isn't scary at all. It doesn't have to take hours a day and used properly is a very effective marketing tool. This book shows you step by step how and why to use social media. Each chapter covers a different aspect of social media, and diagrams and cartoons reinforce the points made. There's also a useful summary of action points at the end of each chapter. It's written in a straight-forward, friendly style, and is packed with advice and tips you can use from day one. This book demystified social media for me and showed me that I can just relax!"
"This is a really useful and very readable book. Luan has been able to distil both the upfront thinking and best practice approach into a format that is accessible to all. Whether a seasoned marketer or a new business owner there is something for everyone. It is no-nonsense, but this does not mean lightweight as it covers the subject in depth and with rigour and is clearly backed up with real knowledge and experience. Well worth a read and keeping in the office to dip into as needed."
"The refreshing difference with Luan's book is that she puts social media in the context of an overall marketing strategy and clearly explains that it's another tool in the marketing toolkit that may, or may not, be right for your business. If it is something that you need, her easy-to-read book will give you a great guide on how to do it properly, in line with your objectives, and to measure the outcomes. A great book from a professional marketer!"