Your trusted advisor, and extra pair of hands
Relax! It's Only Social Media
A critical friend and confidante for busy business owners and marketing leaders.
Do you need a senior-level marketer who can make things happen, but without the full-time commitment? I can be your fractional CMO, the marketing lead for your growing business or a project-based social media consultant to help you achieve your marketing objectives.
With a successful track record of working across various industry sectors – from household cleaning products to professional services – I can be up-and-running as soon as we agree on a remit* and deliverables. I don't need training; I don't need you to provide any equipment… though I may need a few usernames and passwords if I'm helping with social media.
My approach will be to work with you in partnership, to get the work done but also to ensure that long-term plans are in place; I'll share how I think, my processes and toolkits so that you won't need to outsource forever.
Some of my clients retain me for half a day a month when we review activity and results; others have 3-4 days a month and we meet (virtually) on a weekly basis to keep each other updated, share challenges, and agree on the work required.
If you have a consultancy project that needs tackling, need some short-term marketing resource, or someone to get your marketing plans sorted and keep them on track; let's talk.
* Please note, the agreed remit of work will need to be outside of IR35 rules and must not be seen as a 'disguised employee'.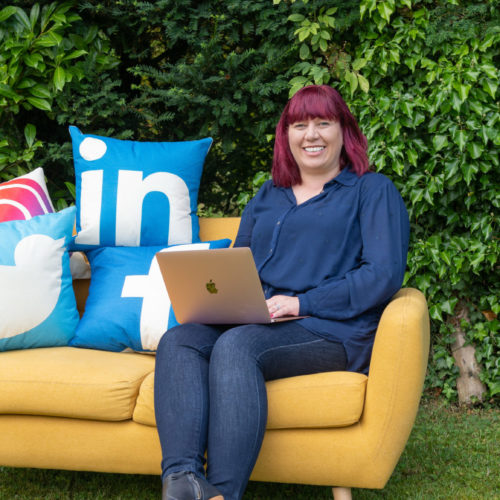 Enquire about your social media partnership
What it's like to work with me
Testimonials
Hi, Luan! I just finished the course you taught: B2B Foundations: Social Media Marketing and wanted to say that it was such a helpful course. I think you gave really valuable and relevant information. I just started working as a social media manager at a B2B company and found it challenging to market because I am more familiar with B2C. I wanted to say thank you for your help you answered many questions I had!
Lori Sharabani
I have been fortunate enough to attend many social media courses run by Luan and have always come away armed with ideas and strategies to move my business forward. Recently I was lured to Switzerland by a large financial services company so I asked Luan for her help to devise a LinkedIn strategy which would get me off to a flying start! I'm now based in Basel and so grateful to Luan for her help – my business is already flourishing and without her intuitive advice and training I would genuinely have struggled to get things off the ground. Not only has she made a huge impact on my business but we also had a lot of fun along the way. Thank you Luan.
Karen Hine, Associate Wealth Consultant, deVere Group
Luan explains the [social media] subject in a clear and well-prepared manner, all levels of social media practitioner, from rank novice to experienced user, will come away with significantly more knowledge and tools to help improve their social media outputs.
Stewart Wardrop, Chief Executive Officer, Arboricultural Association