Reading Time:
5
minutes
In October 2022, LinkedIn reported record levels of engagement for the 16th quarter in a row.
With more than 850 million members in 200 countries and regions worldwide, the business-focused social media platform continues to grow and add new features for its users.
Here's a summary of some key LinkedIn updates we saw in 2022, including changes to personal profiles and company pages.
Personal Profiles
A LinkedIn survey of workers showed that nearly two-thirds of employees have taken a break at some point in their professional career, for parenting, bereavement, caregiving, a gap year, or other life needs. By adding the opportunity to spotlight career breaks within the experience section of a personal profile, it's now easier to have an open conversation with future employers about career breaks.

A simple update for engaging with content on LinkedIn was the addition of the 'funny' reaction to accompany the like, celebrate, support, love, insightful and curious options.

Another simple update, that enables greater engagement with content on LinkedIn is 'Repost', with two options to share content from your feed – either an instant share or with some added comments. I strongly advocate this as a quick way to share content from a company page to a personal network; added comments create additional value but a simple 'Repost' share is better than no action!


To help drive website traffic via a LinkedIn post, the link sticker was added for both personal profiles and company pages. These can be added to an image or video and can be used to drive traffic to either a LinkedIn profile or website page. Although a link can currently only be added via the mobile app (learn 'how to' add a link sticker, here), links are clickable for both desktop and mobile users.
For more on desktop vs mobile features, take a look at this guest blog for Social Media Examiner.
A long-awaited native scheduling feature was added at the end of the year, allowing users to set a timer on content. While this has been possible via third-party tools, to have the option natively within LinkedIn is extremely useful for those that don't need an advanced tool. This is going to be a great feature to share as part of employee advocacy training to encourage colleagues to share more content via their personal profiles. When creating a post you should see a 'clock' icon next to the 'post' button that opens up a window to choose a day/time (up to 90 days in advance) and also to view all scheduled posts. Native scheduling is currently available on desktop and Android, with iOS coming soon. Post scheduling for Company Pages and Groups is likely to be added in the future.

For Premium LinkedIn accounts, a new focused inbox feature allows an 'out-of-office' type message to be set for your current connections. The 'three dots' at the top of your messaging search column (on a desktop) reveals the 'set away message' option and the following window to personalise with your dates and message: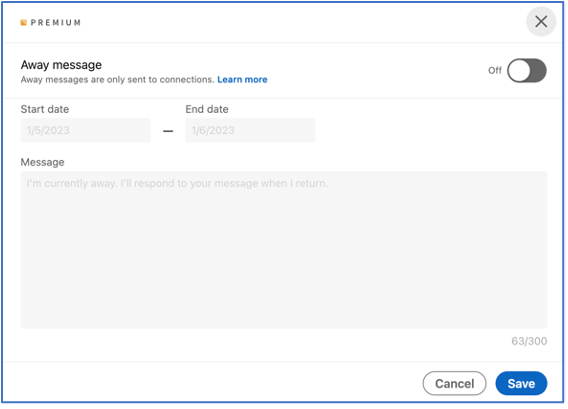 Creator Profiles
Creator mode is a profile setting available for personal profiles; turning it on provided access to additional tools including newsletters, LinkedIn Live, audio events and advanced analytics for posts and audience data.
In Creator mode, the 'connect' button on your profile will default to Follow, and you can highlight up to 5 topics on your profile to show potential followers what you post about most.
New tools were added for Creators in 2022, including the option to add a link to the introduction section of your profile and enhanced analytics.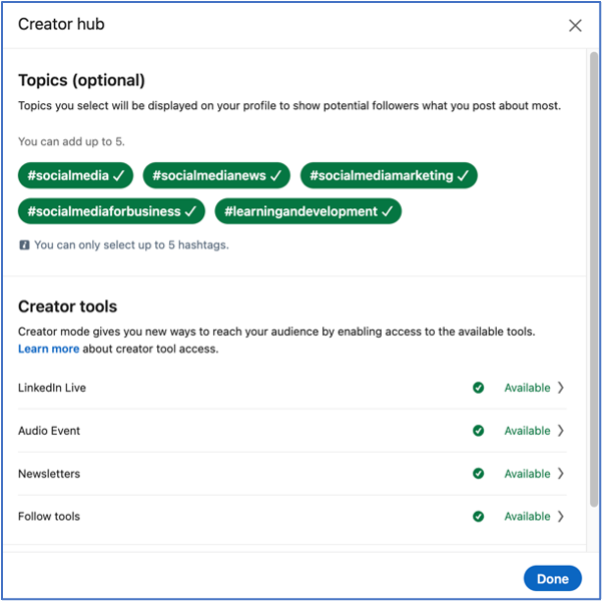 Services Pages
For freelancers and small businesses, LinkedIn added new elements to its Services Pages, including a media showcase plus the option for users to link their Company Page to the Services listing on their personal profile.
Over 2 million Services Pages have been set up since the LinkedIn Services Marketplace was introduced in October 2021. Find out more, plus how to set up your Services Page here.

Company Pages
In 2022, admins for a Page on LinkedIn gained access to publish LinkedIn newsletters (previously only available on a personal profile). Highly popular and easy to create, newsletters have become a useful feature for building subscribers via a one-time notification to your Page followers (sent when you create your first Newsletter or when they start following your Page).
If you're already creating a newsletter, why not replicate it on your LinkedIn Page? Got a question about LinkedIn newsletters, visit the FAQ page, here.
Analytics for Company Pages have also been upgraded, with additional information for tracking competitors. You can now track follower growth, recent posts and engagement rates for up to nine organisations. Here's a link to all the Page Analytics now available.
If you want to learn more about your competitor's activity on social media, get in touch to discuss a social media audit or consider booking a social media insights training workshop.

Accessibility
To mark National Disability Employment Awareness Month (in October), LinkedIn announced a range of new updates to improve accessibility for LinkedIn users.
These updates include adding auto-captions for video content, an option to turn on high contrast (colour adjustment) when watching videos, and alt text functionality in Campaign Manager to enable advertisers to add text descriptions to image ads.
LinkedIn has a dedicated support desk for accessibility support, which can be accessed here. They also offer support through Be My Eyes, a free app that connects blind and low-vision people with volunteers for visual assistance through a live video call.