Reading Time:
2
minutes
One of the most common complaints about social media (and marketing) activity is noise and clutter..
Ad messages are getting easier to block. Noise can be filtered out, but not enough of us are in control of our social media platforms' timelines.
So let's take some time to review and de-clutter…
1) Stop following accounts on Twitter and Instagram. Stop following/liking those people/pages/profiles that bug you!  Allow some time to review all the Instagram profile and Twitter accounts you're following, and only stick with the ones that are adding real value to you and your business right now.

Some accounts you follow may be inactive. UnTweeps is a useful tool to use for Twitter, and the Cleaner app for Instagram – both will help you identify and unfollow inactive accounts.

2) Review groups on Facebook and LinkedIn. Leave groups that are inactive, full of spam and/or no longer relevant to you.

3) Remove LinkedIn connections. The same applies to your LinkedIn network. It's OK to remove a connection if it's no longer adding value to you / you can provide value to them. They will not be notified and only you can re-instigate the connection.

If you don't want to remove a connection, but you also no longer want to see their content in your feed, then next time you see an update click on the three dots in the top right of the post and you will be able to unfollow them. In the same way you can hide specific posts (see image below).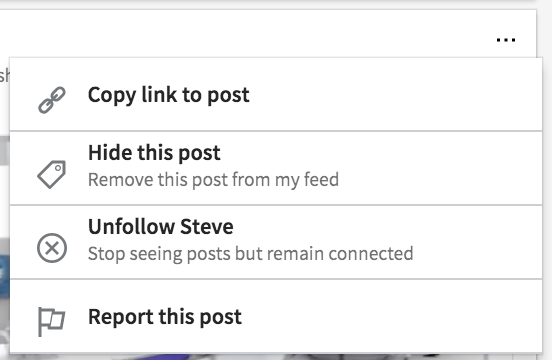 So, walk away from those social media accounts who zap your energy with noise and clutter.
Focus your time and efforts on following smart people/companies who you can learn from, and who will inspire you.
It's also worth having a quick look at all of your account settings for each social media platform you use. Are you managing your privacy, and notifications effectively?
If you need help spring cleaning your social media accounts, get in touch.