If you are looking for in-house training, let's talk.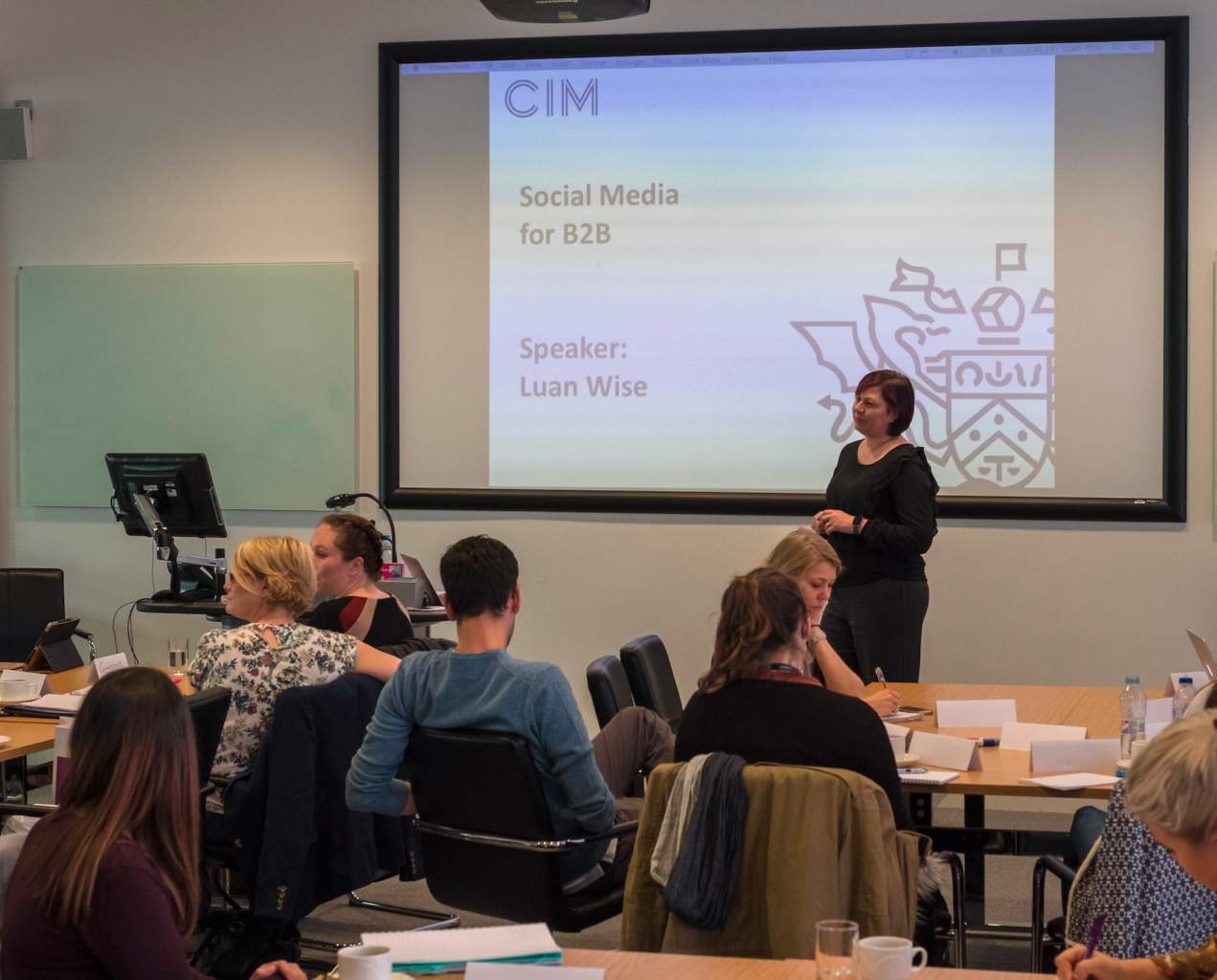 I run training courses on:
Social Media for Business
LinkedIn, Twitter, Facebook and/or Instagram
Content Marketing
Social Selling
Social Media Measurement
Writing a Marketing Plan
Event Marketing
Finding your Why (Purpose)
Profiling your Customers
Right now, training courses can only be delivered online. I can provide the relevant software links (Zoom) or work with your own technologies.
I have written online learning courses – available on LinkedIn Learning – and delivered many courses via webinar, for professional bodes and their members, remote based sale-teams, and organisations across the world.
If you would like to talk about marketing and social media skills training for your team, call 01242 420 597, email sayhello@luanwise.co.uk, or complete the enquiry form below.
Client feedback:
In the Falkland Islands, we've always understood the challenges of "working remotely", and our social distancing places us some 8000 miles from Great Britain, and more than 300 from the South American shores.
But that has not stopped the Falkland Islands Development Corporation from running a vital programme of business skills training – working with our valued UK training partner Luan Wise.
There is a clear need, and a good appetite here, for very high quality business training. Luan has adapted her material to suit our needs and location – with excellent workshops on social media, digital marketing, improving websites, the basics of marketing, and much more – delivered to our classroom via video conferencing.
Every aspect of Luan's courses had gained the top evaluation ratings from our participants, and we have significant demand building for more of her virtual 'presence' with us in future.
Gordon Ackroyd, Strategic Projects Manager, Falkland Islands Development Corporation
…………………………………………………..
Luan delivered a fantastic LinkedIn workshop for International Benefits Network. She hit just the right note: making the subject simple enough for beginners and also giving plenty of insights for the more experienced social media users in the group. Feedback from our consultants was really positive – everyone got something from Luan's workshop. 
Sally Hart, Executive Director, International Benefits Network
…………………………………………………..
We first asked Luan to provide LinkedIn training as part of a personal development programme. Luan completed personalised LinkedIn profile audits, ran a webinar for team members to hear top tips and ask questions, all complementing her detailed 'Getting Started with LinkedIn' e-learning course. We have since asked Luan to support our business development team, again with personalised profile audits, webinars and the advanced 'Getting Results from LinkedIn' e-learning course. Luan is easy to work with and the courses have been highly praised by everyone who has taken them. 
Jess Putt, Marketing Manager, British Gas Business
…………………………………………………..
Having benefitted from Luan's social media for business course back in 2014, I knew exactly who to turn to when it came to training management and commercial colleagues a few years later. From the outset Luan assisted with planning the sessions helping us to focus on 'why' we were embracing social media and the outcomes desired. When it came to the practicalities Luan explained the functionality of the key social media platforms simply and concisely. In addition to years of practical experience across a variety of sectors, Luan's know-how is grounded in theory which comes through in the logical and structured nature of her advice.
Luan's pre-event preparation means her training sessions are wholly relevant to the business. Learning is re-enforced through beneficial course materials delivered in class and subsequently emailed post-event. Luan explains the possibilities of social media in a straightforward, ease to understand manner with lots of top tips on the day and a wealth of online resources to draw on afterwards. At the end of the session delegates leave with action points designed to enhance their knowledge and confidence.
Luan is continually updating her own knowledge and skills regarding social media and I personally find it useful to participate in one of her regular webinars/courses to keep on top of the latest developments.
Louise Aplin, Marketing Manager, Berry Global Inc.
…………………………………………………..
We asked Luan to help our scientists get the most from LinkedIn. She worked methodically to establish what was needed and deliver this through benchmarking, a face-to-face workshop and a series of e-modules targeted at individuals needs. As a result we saw our LinkedIn presence grow dramatically with a doubling in traffic from LinkedIn to our website. This just wouldn't have happened without Luan as the catalyst. 
Leighton Jones, Head of Marketing & Communications, Campden BRI Group