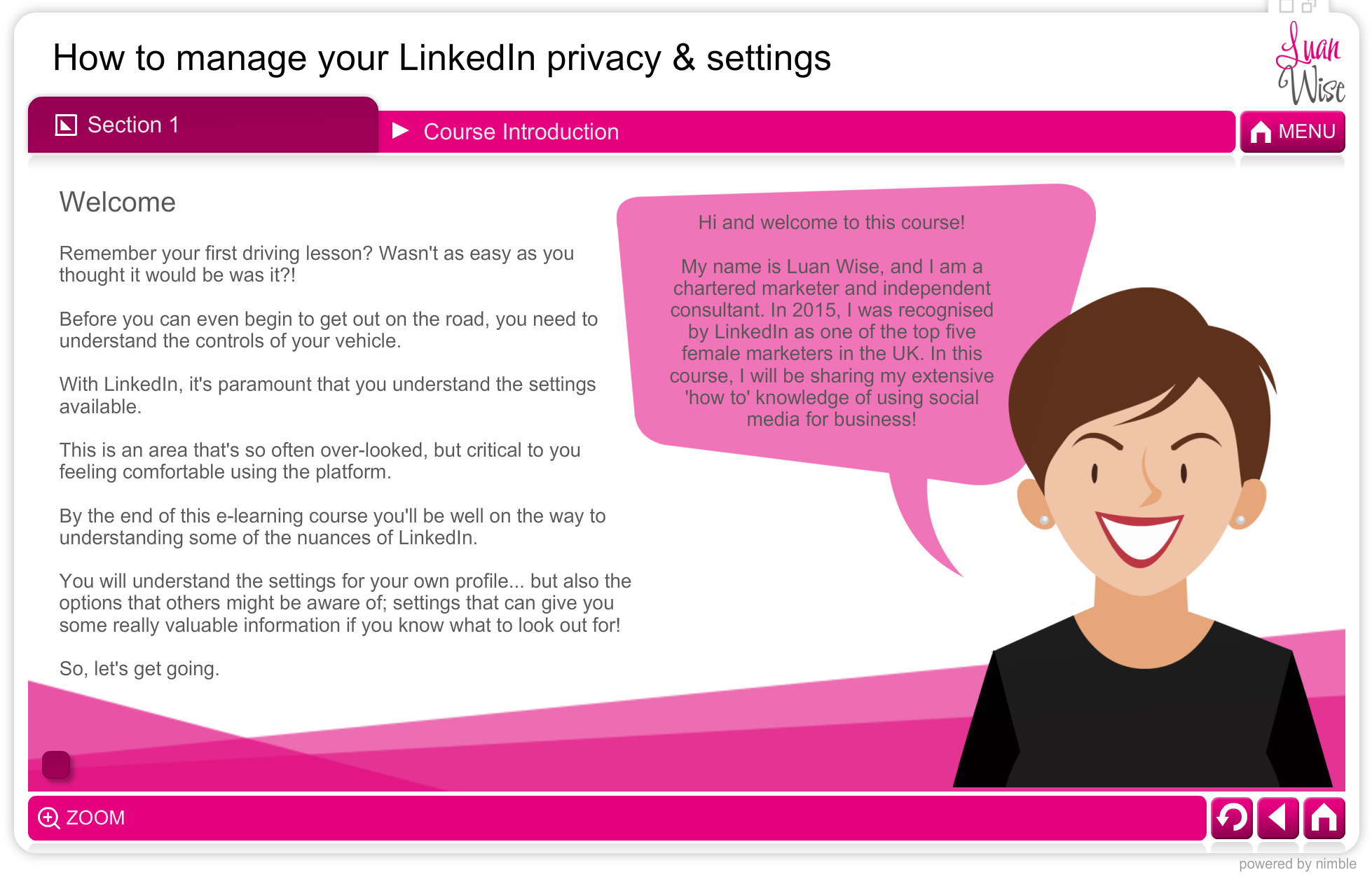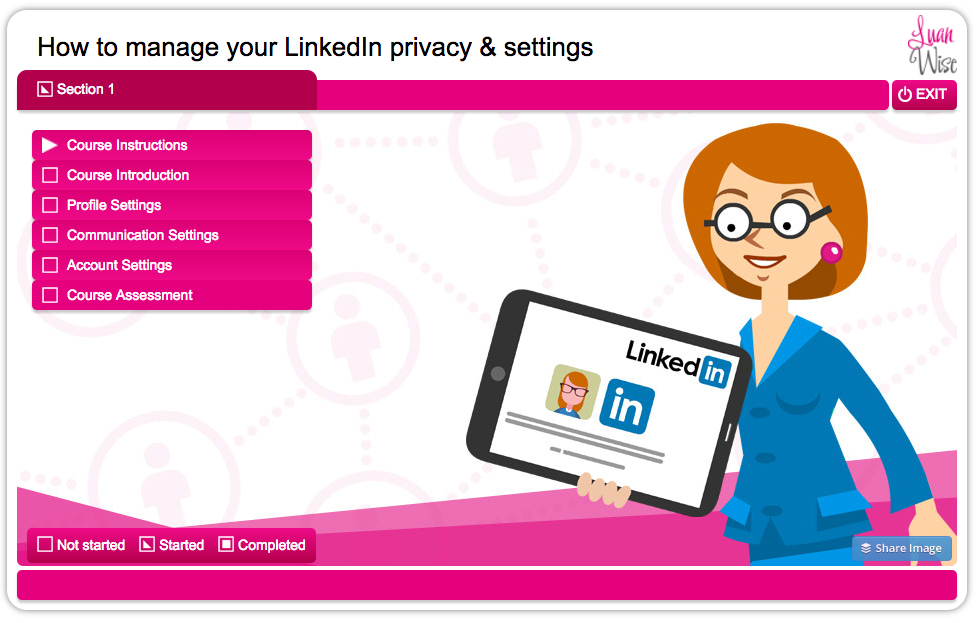 Let me help you to get results from LinkedIn
Price: £99 (inc VAT)
[purchase_link id="6117″ text="Add to Cart" style="button" color="dark-gray"]
Linkedin is the number one social media platform for business, yet only 51% of users have a complete profile.
Working at your own pace, this course will help you get your profile in shape, and show you how to use LinkedIn to build your reputation, gather insight and identify opportunities.
The course covers: An introduction to LinkedIn, setting up your LinkedIn profile, LinkedIn skills, endorsements and recommendations, how to manage your LinkedIn privacy and settings, Company Pages, building your LinkedIn network, LinkedIn home page insights, How to search LinkedIn and LinkedIn Groups.

Includes real-world, up-to-date examples and screenshots to guide you through, step-by-step.

Access available for six months from enrolment.
E-learning course feedback
"I was introduced to the e-learning LinkedIn Training; this was the best investment that I could have made. Once I started the course I could not stop; but completed the entire course in one day. I found the course content very interesting, informational and interactive with assessments at the end of each module to test your knowledge learnt. The course layout is easy to follow, I found myself working in conjunction with my own profile, making all the necessary changes where required. I am so pleased with the outcome; it has reached the 'ALL STAR' ratings presenting a smart and polished presentation. Looking forward to the next level of LinkedIn. I recommend beginners of LinkedIn to take the course, you will not be disappointed. Thank you Luan Wise, great course!!"  Donna Christie
……………………………………………………
"I found the Introduction to LinkedIn course really helpful. I was a complete novice and had just about managed to set up my profile before taking the course. I found it very clear, concise and easy to understand. I particularly like the advice offered on how to personalise your invitations to connect and also that you should really think about who you connect with. LinkedIn is a very powerful professional and networking tool and whilst I'm still not a whizz, I understand more of the functions and now feel confident to be able to offer support to my clients."   Angela Cooper
……………………………………………………
"I recently completed the Introduction to LinkedIn course which I loved. It definitely gave me an insight to how LinkedIn works. I was able to update my profile which is now looking really good. I learnt more about how LinkedIn can help me market my business. I found the course really easy to work through and each section is really informative."  Kelly Cannon
……………………………………………………
"Well thank goodness for this course! I was completely clueless about LinkedIn before Jo recommended it and I'm so glad she did. The prospect of using an unfamiliar platform to try and sell my services filled me with dread and I knew I needed a quick solution. That's exactly what this is, it's what it says on the tin. A walk through guide on everything you need to set up an all -star profile and the best ways to market yourself. I've made 100 connections in a week and can't wait to see what opportunities are in store. It's clear that the options are endless with LinkedIn – you have to put the work in to build a good profile for yourself but the course gives you all the skills and loads of tips to get you on your way.I now find myself browsing LinkedIn more than all the other social media sites I'm addicted to!"  Sophie Khaksari
……………………………………………………
"I have just finished the LinkedIn course and just wanted to drop you a quick email to thank you for helping this LinkedIn newbie get her profile to Expert status (just need a decent profile picture to get me to All-Star!!) I had never used LinkedIn before, and after completing the course I genuinely understand how LinkedIn can help my business, and how to make it happen! The course is written in a way that those new to this particular social media platform can grab it and run with it and I am excited to keep learning about further features on LinkedIn. I will definitely be looking at other courses you offer, secure in the knowledge that they can genuinely help me move onwards and upwards!" Alison Campbell
Disclaimer
E-learning course content is entirely the opinion of the author. Information shared has been gathered via regular online research and practical experience. Whilst every precaution has been taken in the preparation of a course, the author does not have any liability to any person or entity with respect to loss or damage caused or alleged to be caused directly or indirectly by the information and instructions contained in the course or by any products or services described within it.
The author does recommend having a social media policy in place.
The following information documents are kindly provided by Willans LLP:
Social media tips for employers  |  Social media tips for employees