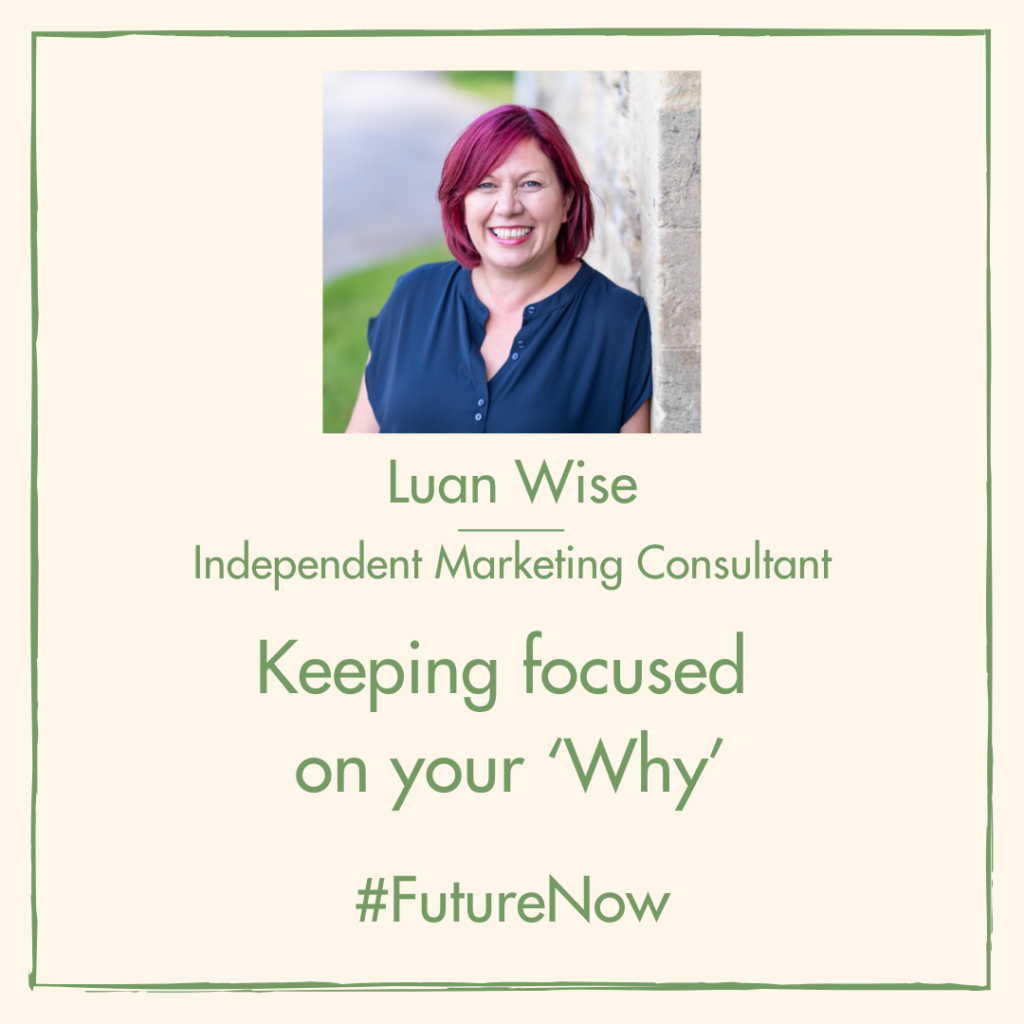 Reading Time:
4
minutes
Initiated by BPE Solicitors, Hazlewoods and Target PR, #FutureNow is a forum for collaboration: a stream of insight, expertise and ideas available online and via LinkedIn and Twitter. Search for '#FutureNow'.
The purpose of #FutureNow is simple: to help each other rebuild our economy in a meaningful way, through useful insight, freely shared. To help businesses to reboot, reform and regrow; to create a 'new normal' that's resilient and sustainable in its widest sense.  
Keeping focused on your why
In a recent article for Inc.com, author and Ted Talk speaker Simon Sinek said "It's normal for crises to shake our confidence. A crisis can put us off course, but it doesn't mean the why has changed. It means we stopped focusing on it."
In his Ted Talk, Start with Why, Sinek argues that every organisation knows what it does – the products it sells or services it offers, and every individual knows what they do – their job title and responsibilities. Some also know how they do what they do and what they do. However, Sinek continues, few people and organisations can clearly articulate why they do what they do – and why that should matter to anyone else.
Discussing this topic with Sarah Bryars, CEO at Target PR, in preparation for a LinkedIn Live, we considered how easy it is to also fall into communicating the 'what', rather than the 'why' – particularly when the world goes into lockdown overnight. Comms people have never had to adapt their plans so quickly!
Changing what you do, not why you do it
In the Inc.com article Sinek also shared his counsel, "to remember that even if you're changing what you do, you must not change why you do it".
Some businesses and individuals have inevitably found their roles changing in 2020 – perhaps through necessity because their industry can no longer trade, and perhaps because of the opportunity to take some time to pause and reflect on how to best adapt to operating under lockdown.
In the advice that I have shared over the past few months, the key point has been to stay visible. To keep communicating clearly to people that, even if they are not ready to buy from you now, they will remember you in the future. Behind this visibility, sits more than 'what' and 'how'. It is all about why; serving a purpose, being helpful and finding a role to play in people's lives.
We've seen some great new content over recent months from #PEwithJoe to how to make your favourite restaurant meals and Starbucks drinks at home. Virtual experiences such as live streaming of the summer solstice from Stonehenge and virtual museum and gallery tours. When we couldn't go out, we've been able to stay connected by welcoming people and organisations into our homes.
Finding your why
In sharing our experiences working with clients to clarify and articulate their why, Sarah and I discussed that for many businesses this is not a new concept. Those that have a clearly defined purpose find it hugely valuable as a way to keep business operations and both internal and external communications focused. During recent months it's been even more helpful to keep people working together, remotely.
For those that perhaps haven't previously looked at their purpose, now is a good time!  Sinek's 'Find Your Why' book has a step-by-step guide to the process, and also recommends working with an external partner or facilitator to support the exercises.
Aligning your 'why' with customer needs
A business with a clear purpose also helps customers know what they stand for. The world in crisis has demanded more information, and issues of trust, authenticity, and transparency have become increasingly important factors for consumers, particularly in relation to the businesses and individuals they want to buy from and work with.
Businesses and individuals that can clearly define, communicate, and keep focused on their 'why' will, I believe, be the ones who can come out of this crisis in a stronger, more sustainable position.
Marketing plans are more likely to be for 90 days, than perhaps 1, 3 or even 5 years right now. Our agility during lockdown shows we can adapt and is a valuable lesson for the future.
Another of the positive lockdown lessons that I'm valuing is the increasing level of conversation and support from individuals and businesses – openly sharing their feelings, experiences, and activities. The challenges, the struggles and the successes!
In truly (yes, I'm going to use the word), unprecedented times where everyone has been impacted at some level, taking the time and opportunity to go back-to-basics, not only in our personal lives to ensure safety, shelter, and sustenance, but also in running businesses and supporting clients in their businesses can now, I feel, be appreciated.
I also believe that many businesses and individuals have shared some really great content during the lockdown. Virtual delivery and home working have made it more accessible than ever before. And the visible shift from overt selling, which no longer felt quite right, to communications that showed change via a new empathetic tone of voice can leave any crisis of confidence we might have experienced, to a 'new normal' with re-invigorated focus and purpose.
Luan Wise 
Luan is a chartered marketer, fellow of the Chartered Institute of Marketing (FCIM) and balances her marketing consultancy with speaking and training. During lockdown she has stayed visible by hosting over 30 free webinars plus a series of LinkedIn Live conversations. You can watch the lives, here