If you're looking to improve your marketing skills and understand the ever changing world of social media – take a look at my online learning courses, and face-to-face workshops.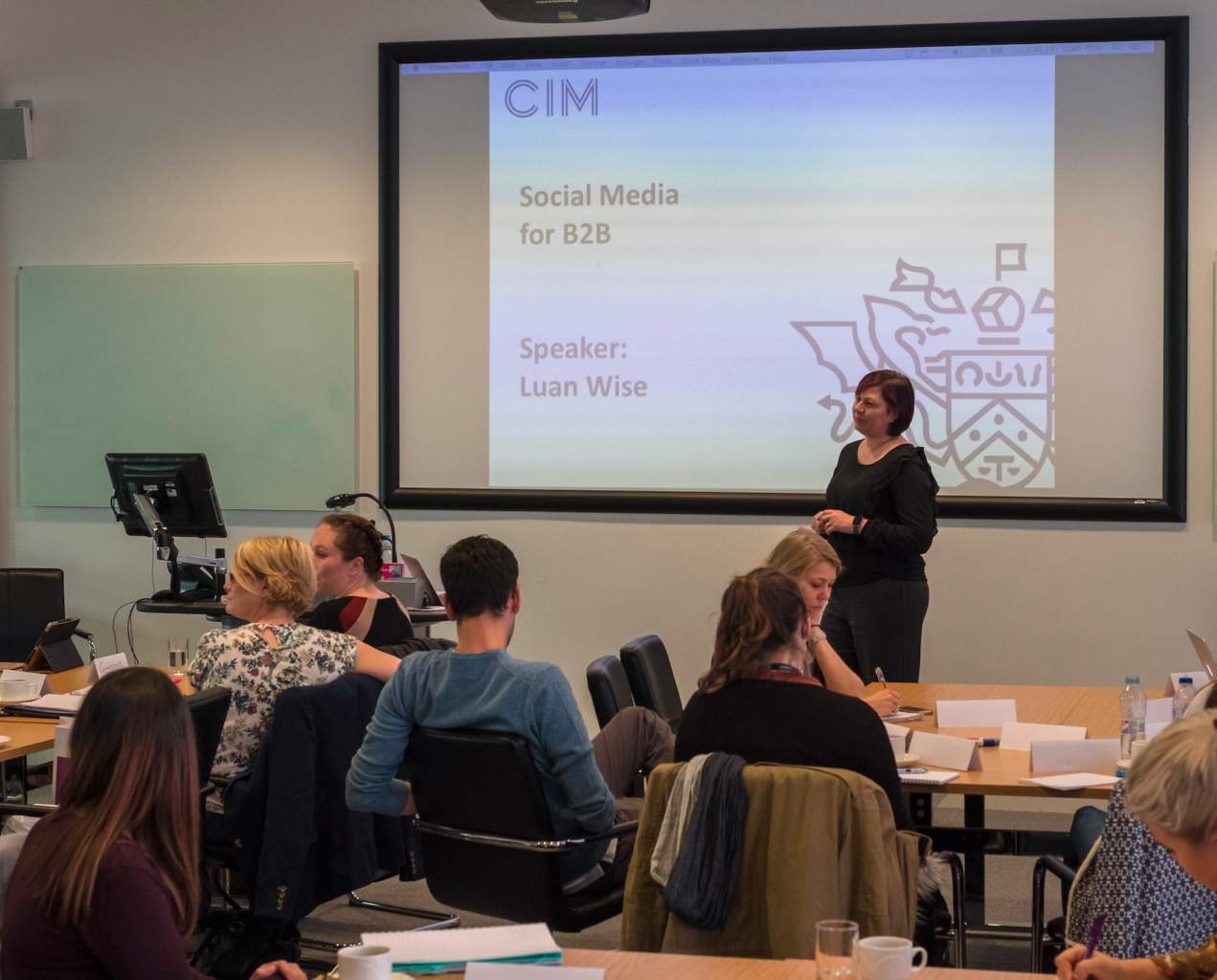 I run training courses on:
Social Media for Business
LinkedIn, Twitter, Facebook and/or Instagram
Content Marketing
Social Selling
Social Media Measurement
Writing a Marketing Plan
Event Marketing
Finding your Why (Purpose)
Knowing your Customer
I regularly run open courses for Gloucestershire College, the Association of Independent Professionals and the Self-Employed (IPSE) and the Chartered Institute of Marketing (CIM). I often speak at events for Google's Digital Garage, the Chartered Institute of Management Accountants (CIMA), the Chartered Institute of Personnel and Development (CIPD), the Chartered Management Institute (CMI), the Federation of Small Businesses (FSB), and Enterprise Nation. Scroll down for future course dates.
Everything I share before, during and after a training course is grounded in theory as well as practical experience, continued learning (I'm an avid reader and information junkie) and from knowledge gained by speaking to hundreds of business professionals.
Every session is confidential, and interactive – I listen as much as I talk, and manage the session to ensure that everyone leaves with clear action points to help them achieve their objectives (we always finish on time too).
Any course can be tailored for in-house training session, suitable for director level roundtables, sales training or company-wide programmes. I can deliver via webinar or if you have great-tasting coffee, I'm happy to visit your offices!
Let's discuss your learning & development needs. Get in touch.


LinkedIn Learning is the online learning platform available to LinkedIn premium members.
I have the following courses currently available:
Content Marketing: Social Media
Content Marketing: Videos
B2B Foundations: Social Media Marketing
Setting a Marketing Budget
Marketing Foundations: Targeting
Marketing your Event
To find out more about LinkedIn Learning, read this blog.

I run the following courses at Gloucestershire College. To book your place contact Student Services on 0345 155 2020.
19th November – LinkedIn (Part Two)
2020 course dates coming soon

Established in 2004, B2B Marketing is now the number one go-to resource for B2B marketers across the globe.
I run their open training course, 'How to write a marketing plan'.
To find out more and book your place, visit the B2B Marketing website.
Course dates:
30th January 2020 (central London)

#SheMeansBusiness is a global Facebook program that provides training for business women who want to gain new skills to start, grow or scale their businesses, with the aim of creating a community of business women where they connect, inspire and help each other to find success. I am an accredited trainer for the initiative.
I am hosting the following event at The Queens Hotel, Cheltenham.
Thursday 5th December, 6-8pm
2020 event details coming soon!
To find out more and book your place visit www.enterprisenation.com/events

LinkedIn Masterclasses
This LinkedIn masterclass is being hosted by the Chartered Institute of Marketing (CIM).
Client feedback:
Luan's courses are fun and easy to digest. She manages to explain things so clearly and in plain language that everyone of all ages can understand the issues. You come out 'getting it'. Rebecca Harding, Vice-Chair CIM Midlands
Luan delivered a fantastic LinkedIn workshop for International Benefits Network. She hit just the right note: making the subject simple enough for beginners and also giving plenty of insights for the more experienced social media users in the group. Feedback from our consultants was really positive – everyone got something from Luan's workshop. Sally Hart
Having attended Luan's excellent LinkedIn courses at Gloucestershire College, I invited her to present to members of the Sales Performance Association. The half-day session was packed with top tips, insights and practical advice to help attendees really think about their online presence. Highly recommended and a number of members have contacted me to say how useful and insightful the session was. And these are seasoned salespeople all using LinkedIn already. Paul Archer
Having recently changed career to marketing I do not know what I have would have done without Luan! Luan's book, RELAX! IT'S ONLY SOCIAL MEDIA, is a handy go to guide and The Social Media Planner is absolutely essential for me – I love the daily and weekly tick lists. I attended the Content Marketing Fundamentals 1 day training course which was informative, relaxed and well tailored to the delegates. Luan is incredibly knowledgeable, approachable and helpful. Highly recommend! Caroline Mehta, Rigorous Digital
The marketing session delivered by Luan was brilliant. It gave us the opportunity to drill down into key areas that we needed to address rather than attempt everything at once. I'd thoroughly recommend. We believe we've seen a real difference in our marketing strategies as a result of the session. Madeline Howard, Cyber Security Associates
As the Seminar Executive for the Cheltenham Chamber of Commerce, I asked Luan to deliver a 1 hour seminar on social media, aimed at Chamber members and other local business. These are 1 hour sessions of useful advice for businesses. Luan delivered a significant amount of information in this hour, helping attendees focus their time when using social media. It was clear, interactive, and contained many suggestions for useful tools. I would be happy to recommend Luan and hope to work with her again in the future. Thanks! Tracey Adams
Luan Wise has been a speaker at Moda UK on more than one occasion, talking to our audience of fashion retailers. Luan is a brilliant speaker who can keep an audience completely engaged. She has a natural way of speaking to the audience whilst still being clear and concise. Her marketing knowledge shines through and the audience members always go away with some useful hints and tips to make the most of their marketing. Nicole Yates
I first made contact with Luan via a LinkedIn post.  In fact, I was so impressed by the blog, I asked Luan to deliver a session at one of our CommsHero events.  Since then Luan has been involved as a speaker at further events and will be invited to future sessions.  The feedback we've had from delegates was always very positive "great insight in to the marketing world", "pitched perfectly for the target audience", "we came away buzzing with lots of great ideas we will use in our organisation".Asif Choudry
We first asked Luan to provide LinkedIn training as part of a personal development programme. Luan completed personalised LinkedIn profile audits, ran a webinar for team members to hear top tips and ask questions, all complementing her detailed 'Getting Started with LinkedIn' e-learning course. We have since asked Luan to support our business development team, again with personalised profile audits, webinars and the advanced 'Getting Results from LinkedIn' e-learning course. Luan is easy to work with and the courses have been highly praised by everyone who has taken them. Jess Putt, Marketing Manager, British Gas Business
We asked Luan to help our scientists get the most from LinkedIn. She worked methodically to establish what was needed and deliver this through benchmarking, a face-to-face workshop and a series of e-modules targeted at individuals needs. As a result we saw our LinkedIn presence grow dramatically with a doubling in traffic from LinkedIn to our website. This just wouldn't have happened without Luan as the catalyst. Leighton Jones, Head of Marketing & Communications, Campden BRI Group
Luan is that rare combination of someone who really understands 'their stuff' and delivers training on the subject in such a way that is both engaging and easy to understand. Her social media courses are insightful and structured in such a way, that not only do you learn a lot, but you leave with a clear action plan on 'what happens next'. I've been fortunate enough to attend a number of her courses, and would highly recommend them to anyone who wants to not only wants to understand more but to do more when it comes to all things related to social media marketing. Susan Duncombe, Secret Spaces