Reading Time:
5
minutes
In August 2016, Instagram introduced Stories to compete with a similar feature on Snapchat… disappearing content. In June 2018, Instagram reported 400 million uses of stories every day.
They are useful for sales and promotions, product launches, tutorials and sharing behind the scenes insights.
One third of the most viewed Stories are from businesses
One in five Stories on Instagram gets a direct message, making Stories a great way to engage with your audience
What Are Instagram Stories?
Instagram Stories allow you to share photos and 15-second videos on your profile for just 24 hours.
Instagram Stories do not appear on your profile grid or in the main Instagram feed – they are highlighted in a bar along the top of your app. They also appear at the top of your profile.
To view someone's story, you simply need to tap on their profile photo, and their story will appear full-screen. New stories are shown first; by scrolling left you can see all Stories that the people you follow have posted in the last 24 hours.
Once you're viewing a story, you can tap to go back and forward or swipe to jump to another person's story. When you see someone's story, they'll be able to tell that you've seen it. Unlike regular posts, there are no likes or public comments for Instagram Stories. If you want to comment on something you see, you can tap and send a private message via Instagram Direct.
How to create an Instagram Story
1.     Open Instagram, and either swipe right from your home screen or tap the camera icon in the top left-hand corner to open the Instagram camera.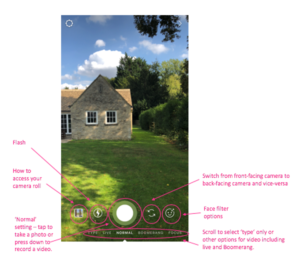 2.     You can share a photo or video captured within the last 24 hours by clicking on the image to open your camera roll. For photos taken more than 24 hours ago, swipe up on your screen to browse your complete photo gallery OR tap to take a new photo or press down on the 'Normal' button to take a video. You also have the option of creating a type only image, or taking a live, boomerang, superzoom, rewind, or hands-free video.
3.     Draw, add text or a sticker to your photo or video. To remove text or a sticker, drag and drop it on the rubbish bin at the bottom of the screen.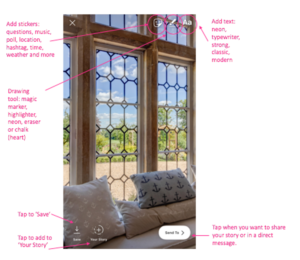 4.     When you're ready to share, tap 'your story' in the bottom left. You can also save your edited photo or video to your phone gallery by tapping "Save" in the lower left-hand corner.
If you create more than one Story within 24 hours, they will appear together in a slideshow format.
When you have more than 10,000 followers (or if you have a verified account), you can add a 'swipe up' feature to you story which attaches a website link that followers can swipe to visit.
Story highlights
If you want to keep your Story for more than 24 hours, you can add them to your profile as 'highlights', where they will appear below your profile photo, as shown below.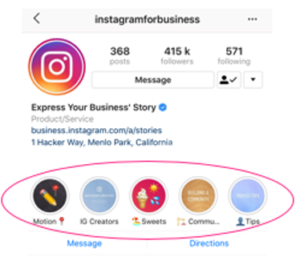 Go to your profile and tap Story Highlights below your username and bio. Tap the 'plus' and then tap to select the story or stories you want to add to highlights, tap next. Choose a cover photo and enter a story name for your highlight and tap 'add' or 'done'. You can add more photos or videos to your highlight at any time by tapping 'edit highlight'.Privacy
Your story follows the privacy settings of your account. If you set your account to private, your story is visible only to your followers. If you wish, you can also hide your Story from anyone you don't want to see it, even if they follow you… go to settings, tap 'story controls' and tap 'hide story from'; then select the people you'd like to hide your story from and tap 'done'.
More about stickers…
Stickers add some fun to your Story and using them is extremely easy. Just tap on the sticker icon (the square smiley face) and you will be able to choose from the available options. If you change your mind, just drag it over to the bin at the bottom of the screen and it will delete it. You can add your location, time and temperature, emojis, a hashtag, @mention or even select themed ones to coincide with holidays or birthdays. When you have chosen a sticker you can rotate it or change the size by using two fingers to pinch and zoom.
Music stickers
If you tap the music sticker icon you will be able to choose from a library of thousands of songs – you can search for a specific song, browse by mood, genre or what's popular; tap 'play' to hear a preview. When you've selected your song, you can fast-forward and rewind through the track to choose the exact part that fits your story.
You could also choose a song before capturing a video. Open the camera, swipe to the 'music' option under the record button. Search for a song, select the exact part you want, and record a video as the song plays in the background.
Question stickers
If you would like some more interaction with your followers, use a question sticker. Your followers just need to click it to reply.
Poll stickers
These interactive stickers allow you to ask a question with two customised options for the answer. Once someone has voted on your poll, they'll see which choice is in the lead at any given moment. And if they watch your story again later, they'll see the latest results. To see your own poll results, swipe up to open the viewers list for that part of your story. Not only will you see how many votes each option received, but you'll also see who voted and what option they chose.
Story success
Once your Story has been posted you can view some basic analytics number of views; you can also see who has viewed it. Watch your own story and swipe up to see the data. Only you are able to look at who's seen your story.
If you have a business profile you will also be able to use Instagram Insights. Under the 'content' heading you will be able to view:
Impressions– The total number of views your story has received
Reach– The number of unique accounts who saw your story
Taps forward – The number of times someone taps to skip to the next piece of your story
Taps back- The number of times someone taps to go back to a previous piece of your story
Replies– The number of times people send messages through the Send Message option on your story
Swipe away– The number of times someone swipes to skip to the next account's story
Exits– The number of times someone leaves the stories viewer to return to their feed